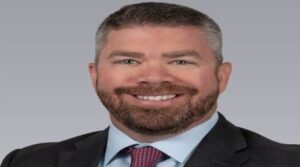 Real Estate Veteran Relocates from Albuquerque to Colliers Arizona
PHOENIX, ARIZONA – Gannon Coffman has joined the Medical Office and Bio Life Sciences real estate group at Colliers in Arizona. The seasoned real estate professional has relocated from Albuquerque to advance his career.
"Gannon brings eight years of real estate development and brokerage experience to this position," says Bob Mulhern, senior managing director of Colliers in Arizona. "His diverse experience in both commercial real estate and medical product sales creates a unique level of knowledge for his role in the medical office and bio life sciences real estate industry."
Coffman will serve as Associate Vice President at Colliers, handling leasing and sales of medical office and bio life sciences real estate. He represents both landlords and tenants serving their real estate needs. Coffman will work with Phil Wurth, CCIM, who is an Executive Vice President with Colliers in Arizona.
Prior to Colliers, Coffman served as Director of Development for Allen Sigmon Real Estate Group in Albuquerque. In that role, he was responsible for overseeing and directing development projects from inception to completion, including evaluation and structuring private investor capital requirements, GP capital, debt and mezzanine financing. This entailed office, industrial, STNL and mixed-use retail assets. He also served as Broker & Partner for Pegasus Retail Group & Unisus Development in Albuquerque. Coffman's eight years in real estate brokerage and development followed 10 years of medical device sales for Integrated Medical Systems (IMS) and Biomet Spine and Biomet Trauma in Albuquerque.
Coffman holds a Masters in Real Estate Development (MRED) from University of Arizona and a BA in Communications, Spanish & Business from University of New Mexico. He is a member of NAIOP
Commercial Real Estate Development Association, International Council of Shopping Centers (ICSC), and is pursuing his CCIM designation.