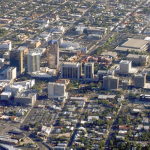 Rio Nuevo Downtown Redevelopment and Revitalization's District Board of Directors voted 4:1 at its July 15th meeting to schedule public interviews with Peach Properties HM, Inc. (Ron Schwabe, CEO) and Nor-Generations, LLC (Allan Norville, manager) the two submitted proposals for an 8.4 acre lot. The board needs to get this one right and is being cautious about picking the right developer for this key piece of  land that is destined to become the western gateway to Downtown Tucson, currently referred to by many as "The Dead Zone".
The days of "buy-to-hold" downtown are gone, the community wants results as they begin to see the growth trajectory of a Downtown district with some long overdue successes. As other western cities were redeveloping their downtown district in the 80's and 90's Tucson fell behind due to mismanagement of resources. Now it's catch-up time and decisions need to be made in order to move Tucson forward.
Nor-Generations (Nor-Gen) outscored Peach Properties (Peach) 5290 to 5115, at the July meeting with one board member, Alberto Moore, giving Nor-Gen a "perfect score". Now, both projects are impressive, however in all good conscience, neither achieve "perfection" if there even is such a thing in development. To see the board member's scorecards click here.
It was Peach who won the bid originally from the City of Tucson before fee title was conveyed to Rio Nuevo as part of the City and Rio Nuevo settlement. Now, with 1,200 parking spaces on the subject lot encumbered already to Nor-Gen for parking, Peach entered a bid for the second time. This being the second time around, Peach Properties, perhaps for that reason, had prepared an impressive team, calling the project the "Tucson Highline", due to the elevated bike and pedestrian greenway designed to pass over Congress Street and connect to the  proposed Nor-Gen exhibition hall to the east.
Peach's development partners on the project include Phil Swain of Swain Associates of Tucson as Lead Architect, John Strittmatter of Ryan Companies of Tucson as Builder, and Doug Marsh of Oxford Realty Advisors of Tucson for office, retail, and restaurant leasing. Ryan Co. constructed the Unisource tower downtown. Peach Properties has the most multifamily experience and expertise within the Rio Nuevo District as a developer and manager than anyone.
Here's how the two proposals break down:
 
 
 Peach Proposal:
Nor-Gen Proposal:
Gross SF
1.8 million
711,000
Commercial
39,000
567,300
Office
125,000
Across the street
Apartment SF
229,281
83,700
No of Units
320
96
Hotel Brand
Drury Inn
None specified
No of Rooms
180
140
Construction Jobs
1,402
621
Permanent Jobs
613
475
Total Value of Project:
$120 million
$87 million
Nor-Gen's development partners of the project include The Kosmont Companies of Los Angeles for the overall economic and community benefits portion of the proposal. Convergence Design of Kansas City, MO for the architectural design and Gene Fong of Gene Fong Associates of Los Angeles, CA for the hotel design and architecture. Hotel management would be provided by Ensemble Investments of Phoenix who work with a variety of hotels to acquire, develop and manage hospitality assets.
Nor-Gen was not interested in the property the first time being offered by the City. The proposal presented by Nor-Gen is to be combined with the site across the street where a 120,000-square–foot exhibition hall with hotel that will connect to the TCC for the Tucson Gem Show is proposed on land owned by Nor-Gen.
Nor-Gen has an agreement with the University of Arizona, College of Architecture, to incorporate student and faculty reviews of site and design as part of the process for both enhancements and educational purposes. Nor-Gen's largest Tucson development is the Kmart Plaza at Broadway and Kolb (built 1999).
Peach has been directly involved in downtown mixed-use redevelopment projects totaling over $73 million in the past 30 years. Partnering with Holualoa Companies, it did the redevelopment of the Armory Park Apartments, known as "The Herbert". Partnering with Williams and Dame, a Portland development company, it did the redevelopment of One North Fifth at the corner of Congress and Fifth Avenue in Tucson's downtown core. Also in the heart of Tucson, the Scott Broadway Building project, was developed by Peach, and includes 52,000-square-feet of office space, 6,000-square-feet of ground floor retail space, and four penthouse condo units. Situated in the middle of the Tucson business and government district, this property is now in active use after being derelict for a number of years. Key tenants occupying the building include the Providence Service Corporation, the Sonoran Institute, and Penca Restaurant. Peach Properties also operates out of this beautiful building with its unique blend of brick, glass and steel. Other completed projects for Peach downtown include the Toole Avenue Warehouse District at 7th Ave and Toole and the 5th Avenue and Broadway, East End development.
Tucson has the downtown Gem & Mineral Show thanks to Alan Norville, one of its founders, but isn't it time for something more downtown? If Nor-Gen wins the bid, it will control land from I-10 to Granada Avenue and from Congress Street to Cushing Street downtown, half of which it has already owned for more than a generation, more than ample time to deliver on promises.
Surely, putting all our confidence in development of the western gateway for our city into the hands of one person, is not a "perfect" solution for anyone. Yet this could be precisely the outcome of the August 12th public meeting when both bidders will present orally their proposals for scoring by the Rio Nuevo Board a second time for a cumulative total.
The public meeting date and time will be August 12, 2014 commencing at 9 AM at The Arizona State Building Room 222, 400 West Congress Street, Tucson.
To read the Nor-Gen proposal go to: https://rionuevo.org/wp-content/uploads/2013/09/Nor-Gen-Proposal.pdf
The Peach proposal can be found here: https://rionuevo.org/wp-content/uploads/2013/09/Peach-Properties-Proposal.pdf