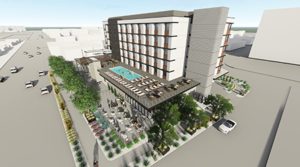 Lifestyle hotel from Opwest Partners to fill a gap in the market
Scottsdale, Arizona — The Davies Group at Los Angeles-based George Smith Partners, a leading commercial real estate capital markets advisor, secured a total of $56 million in structured financing on behalf of Opwest Partners for its ground-up development of the Scottsdale Curio, a 169-key luxury lifestyle hotel. The financing was comprised of a $20 million placement of joint venture equity from Argosy Real Estate Partners and $36 million of senior construction debt from Wells Fargo Bank.
"The Davies Group understood that securing a conservative amount of leverage was important to both us and our partners for this long-term investment in an A+ location," said Tyler Kent, founder and president of Opwest Partners. "We are excited to deliver an authentic lifestyle property to the Old Town Entertainment District."
The six-story, 97,058-square-foot Scottsdale Curio, located at 7501 East Camelback Road on a highly trafficked corner in the heart of Scottsdale's Entertainment District, will feature a subterranean parking garage, restaurant, lounge, an indoor/outdoor fitness center and an amenity deck complete with a pool and bar.
The hotel site, previously home to Don & Charlie's restaurant, sits in an Opportunity Zone community development area. It has proximity to approximately 30 million square feet of office space in the largest office-employment hub in the area.
George Smith Partners' Principal and Managing Director Malcolm Davies, along with other Davies Group members, Senior Vice Presidents Zachary Streit and Evan Kinne; Vice Presidents Alexander Rossinsky and Rachael Lewis; and Assistant Vice President Aiden Moran, sourced the financing on behalf of Opwest.
"The downtown Scottsdale market has seen no new supply in the luxury lifestyle hotel segment since the W Scottsdale opened in 2008, and very little new hotel supply across all segments," said Davies. "Considering the city's robust tourism industry and a nearby concentration of office space, this lifestyle hotel is well positioned for success."
Construction is expected to begin on the Scottsdale Curio in summer 2020.
"In addition to the robust market fundamentals, communicating the deep experience of the team behind Opwest Partners made the difference in closing these financing deals for our client," said Streit.
Currently, Opwest is focusing on all major Western U.S. markets and is targeting $1 billion in projects over the next five years.