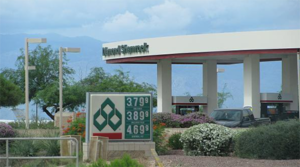 TUCSON, ARIZONA —  Five Valero gas-stations and c-stores in Tucson were acquired by Getty Realty of Jericho, NY for $10.55 million from CST Arizona Stations, Inc. formerly known as Diamond Shamrock Arizona, as part of a $123 million portfolio.
To facilitate Empire Petroleum Partners LLC's purchase of a portfolio of convenience stores from Alimentation Couche-Tard Inc., Getty Realty Corp. agreed to provide acquisition leaseback funding to Empire, in order to acquire fee-simple interests in 49 c-store and gas-station properties for $123 million under a unitary lease.
Couche-Tard's Circle K Stores Inc. agreed to sell a portfolio of 71 properties to Empire to satisfy compliance with regulatory requirements associated with its acquisition of CST Brands Inc.
The properties are located primarily within metropolitan markets in the states of Arizona, Colorado, Florida, Georgia, Louisiana, New Mexico and Texas. Those in Tucson were at 15240 N Oracle Rd., Oro Valley; 5005 N La Canada Dr., Tucson; 1895 E Valencia Rd, Tucson; 1810 W Prince Rd, Tucson; and 9520 E 22nd Street, Tucson.
The unitary lease, effective at closing, provides for an initial term of 15 years, with four five-year renewal options. Rent is scheduled to increase annually during the initial and renewal terms of the lease.
"We are excited to have entered into this transaction and to begin a long-term relationship with Empire," said Christopher J. Constant, president and CEO of Getty. "The properties being acquired represent a high-quality convenience-store and gasoline-station portfolio and are located in markets which we have been targeting for some time. We believe this transaction demonstrates our commitment to the convenience-store industry as well as our ability to respond quickly to meet the capital needs of our customers."
Getty Realty paid for the transaction through funds available under its credit agreement. The transaction is subject to numerous closing conditions, including the closing of a separate purchase agreement under which Empire has agreed to purchase the properties from Couche-Tard, and regulatory review and approval of the separate agreement.
Empire Petroleum, Dallas, is a motor-fuels distributor of brands that include Chevron, Shell, Valero, ConocoPhillips, Marathon, CITGO, Texaco, Sunoco, BP, Exxon, Mobil and Gulf. It distributes motor-fuel products to more than 1,400 gas stations in 27 states in the mid-Atlantic, Southeast, Southwest and Midwest.
Laval, Quebec-based Couche-Tard's network includes 8,081 convenience stores throughout North America, including 6,710 stores selling motor fuel, mostly under the Circle K, Kangaroo Express, Mac's and Couche-Tard banners. Its North American network consists of 15 business units, including 11 in the United States covering 41 states and four in Canada covering all 10 provinces.
CST Brands, San Antonio, has more than 2,000 locations throughout the southwestern United States, Georgia, Florida, New York and eastern Canada.
Jericho, N.Y.-based Getty Realty is a publicly traded real-estate investment trust (REIT) specializing in the ownership, leasing and financing of convenience-store and gas-station properties. As of March 31, 2017, the company owned 736 properties and leased 87 properties from third-party landlords in 24 states and Washington, D.C.