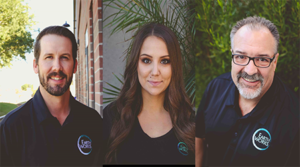 GILBERT, ARIZ. – Earthworks Environmental LLC has expanded its operations to Florida and added two employees at its Arizona office, Principal Cherie Koester announced.
Mark Hubbard will run the Orlando/Tampa/Jackson, Fla., office as a Lead Compliance Manager. Hubbard will be responsible for Storm Water Pollution Prevention (SWPP) manual preparation, notice of intent/notice of termination filing, SWPP program management, site inspections, permit compliance assistance, construction general permit (GCP) applications, street sweeping, and site clean-up.
"We are thrilled about our service expansion into Florida," Koester said. "Mark has exemplary skills in regulatory interpretation, consulting, and customer service. He will be a great addition to the Earthworks Environmental family."
Hubbard will provide National Pollutant Discharge Elimination System/SWPP consulting services in Florida for commercial and residential development. It is one of the services Earthworks offers in Arizona.
According to Koester, the need is even greater in Florida due to the wetlands, sensitive waters, and massive growth of development. The amount of rain Florida receives causes storm water issues.
"We expanded into Florida due to client request and will continue to do so for our clients and the continued growth of Earthworks," Koester said.
Hubbard, a native of Warwick, R.I., lives in Mesa. He earned a Bachelor of Science degree in biology from Biola University in California and a Master of Science degree in environmental management from the Fulton School of Engineering at Arizona State University.
In other personnel moves:
Brooks Morse joined the company as Compliance Manager in the West Valley;
Travis Fern was promoted to Lead Compliance Manager in Arizona;
Madison McMain joined the Gilbert office as Administrative Assistant.
Earthworks Environmental services include storm water pollution prevention, dust control and construction safety compliances. The firm primarily serves land developers, vertical developers, commercial construction, and land holding companies.
To learn more about Earthworks Environmental visit earthworksenvironmental.net