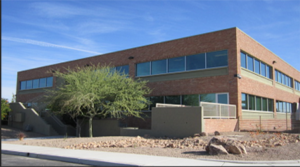 TUCSON, ARIZONA – Chicago-based, Boyd Watterson Asset Management affiliate, Boyd State Tucson, LLC (Kristen Frank, VP Asset Management) bought the building at 2255 West Ina Road in Tucson for $10 million ($216 PSF) in an all-cash transaction.
The 3-story, 46,094-square-foot, high profile building was fully leased to government agencies at time of sale. The Department of Economic Security (DES) occupies the 1st and 2nd floors while an undisclosed GSA tenant recently leased the 3rd floor.
Located at the southwest corner of Ina and La Cholla Blvd. in northwest Tucson, the building was built in 1981 as a charter school originally, dba Sonoran Science Academy. The seller purchased it in 2017 for $3 million with a 52,276 -square-feet of excess land in an REO sale. The seller, WRM Loans and PVP Investments did major renovations to the building.
Phil Skillings and Andrew Sternberg with NAI Horizon of Tucson handle building leasing and are also the listing agents to contact for the 52,276-square-foot vacant pad.
For more information, Sternberg should be reached at 520.729.1694.
To learn more, see RED Comp #6441.