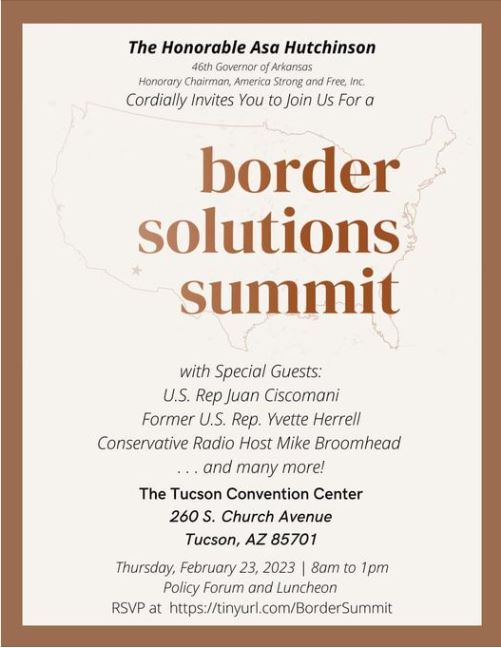 TUCSON, ARIZONA, February 22, 2023 — America Strong and Free, Inc. — an organization whose mission is to advance freedom individually; collectively as Americans; and globally for those who are oppressed — announced today that it would host a Border Solutions Summit in Tucson, Arizona next week. This summit will gather elected officials, community leaders, and grassroots stakeholders who are concerned with the current state of affairs when it comes to our nation's border security. Governor Asa Hutchinson, Honorary Chairman of America Strong and Free, Inc., released the following statement about this upcoming event:
"Americans from all over the country can see clearly the crisis at our southern border as well as the policies and resources needed to change it. This administration continues to demonstrate weakness on a near daily basis, which just jeopardizes the safety and security of our ranchers and American families that live along the border. We must once again signal to the world that the United States of America will always protect our citizens as well as our nation . . . and that starts by securing the southern border." — Governor Asa Hutchinson
The Border Solutions Summit will be held on Thursday, the 23rd of February. It will feature multiple speakers —Congressman Juan Ciscomani (AZ-06), former Congresswoman Yvette Herrell (NM-02), and talk radio host Mike Broomhead — as well as panels featuring law enforcement professionals and local community leaders.
America Strong and Free, Inc. is a 501(c)4. The organization strives to be a leading issue advocacy group that engages citizens committed to fiscal conservatism and rational policies focused on strengthening our economy, promoting individual liberty and opportunities, and avoiding the harsh rhetoric that divides our nation. Furthermore, they hope to influence the direction of our nation with an emphasis on public policy that is conservative - yet compassionate - and supportive of limited government.
Click here to register: https://tinyurl.com/BorderSummit/