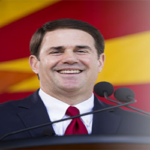 OP-ED by Governor Doug Ducey
Governor Ducey asks for the public's input on Arizona's Executive Budget and will be holding public hearings with Lorenzo Romero, Director of the Governor's Office of Strategic Planning & Budgeting (OSPB), and his team to give a look into the proposed executive budget for fiscal year 2018 and answer any questions.
This meeting will be open to the public.
Executive Budget Public Hearing in Southern Arizona
WHO: OSPB Director Lorenzo Romero
WHAT:  Executive Budget Public Hearing in Southern Arizona
WHEN: Wednesday, January 18, 2017 at 10:00 AM
WHERE: Pima Community College District Office
Building C, Room 105
4905 East Broadway Boulevard
Tucson, Arizona 85709
RSVP: Please RSVP by Tuesday, January 17 to Alexandra Lopez at ALopez@az.gov or 520.628.6549. Members of the public who can't make it to the hearing, can watch from their computer and email questions to azbudget@az.gov.
The following OP-ED by Governor Ducey on the State of the State of Arizona explains his budget:
Resilient and strong.
That's how I described Arizona in my annual State of the State address on Monday. A state that faced an economic downturn of historical proportions and is finally seeing some positive trends.
We recovered all of the jobs we lost during the recession. We're enjoying the lowest unemployment rate since 2008. Consumer confidence is up. And new and exciting companies are expanding here on a regular basis.
Two years ago, when I was sworn in as governor, we faced a more than $1 billion budget shortfall that needed to be corrected. It absorbed our attention and required some hard decisions. As has been said – you can't change the world, if you can't pay your bills. Well, we put our minds to it and paid our bills.
We also needed to resolve a years-old lawsuit that was paralyzing progress at the Capitol. So, in May 2016, voters approved the bipartisan Proposition 123 – ending that lawsuit and bringing $3.5 billion in new funding to our K-12 schools.
My budget is exciting for both sides
Now, with those issues behind us, we are seeing exactly what happens when we have stable state finances: We have the ability to invest in the areas that really matter, namely K-12 education. We're focused on the future, and we have a plan to improve life in Arizona.
On Friday, I released my budget proposal. I believe it's one that both Republicans and Democrats can get behind. It's focused on creating opportunity and lifting the lives of our most vulnerable – especially those who are facing challenges and hardships and need our help.
Whether it's our schools in low-income areas, Arizonans living in poverty, those suffering from drug addiction, people acclimating to life after prison, victims of crime or foster children – these are the people who need our attention. The proposal I've put forward to the Legislature addresses our challenges in compassionate, common-sense, bipartisan and pragmatic ways.
It puts Arizona teachers front and center, expands our children's access to quality public education and fulfills these important promises while being accountable to taxpayers, ensuring structural balance and not raising taxes.
With this new budget, we are living within our means. And my budget makes it clear: If Arizonans are going to move forward, we need to move forward together.
Front and center: Teachers and education
In my State of the State, I outlined 15 new steps, after Prop. 123, for improving and funding our public schools.
For starters, I'm calling for an increased investment in our public schools (above and beyond inflation) every year I am in office, including an additional $453 million to K-12 and higher education over the next three years.
In the first year of this plan, the budget directs $114 million in additional money to Arizona public K-12 schools – that's above and beyond existing dollars, and on top of another $76 million in enrollment, inflation and other adjustments. These are new investments in targeted programs and priorities to improve results in our schools.
Budgets are about making choices with limited, available dollars. We've made our choices, and with a continued focus on keeping the budget balanced. This $114 million accounts for 65 percent of our new budget investments, reflecting this fact: Education is, without a doubt, our top budget priority.
For the last two years, I've had the pleasure of visiting schools across Arizona, mostly in low-income areas, and witnessing first-hand the passion that our teachers bring to the classroom. Their profession — their calling — is an indispensable asset to our state and deserves to be rewarded permanently.
That includes a permanent salary increase
My budget recommends an investment of $204 million over the next five years to provide a lasting 2 percent salary increase to every public school teacher in Arizona. Every single one. And that's in addition to any salary increases they may be receiving from Prop. 123, overrides or their districts.
Recruitment can often be as important as retention, so my budget finances a $1,000 signing bonus to bring our best and brightest teachers to low-income schools across the state, expanding educational opportunities to kids who need it most.
There's more:
$5 million to increase broadband in our rural and tribal schools;
$10 million to expand all-day kindergarten in our lowest-income schools;
$17 million in new funding for building and construction improvements to schools;
$38 million for a per-pupil boost for high-performing schools, with an emphasis on low-income schools;
Other targeted investments in principal academies, career and technical education and college preparedness.
This is a serious and reliable plan. It's one we can afford, pay for and that our kids and teachers can count on.
Opportunity for "all" means everyone
No matter who you are. No matter your background, or where you came from, we want Arizona to be a place for opportunity for all.
People want to enjoy the dignity and value that comes with having a job. To earn a meaningful living. To contribute to the economy and put food on the table for their families.
But as we come out of the recession, some people are still working hard to get on their feet. They need a hand up, and we have common-sense, bipartisan plans to help them and others struggling in our state.
So my new budget:
Recommends a $2.8 million appropriation to extend 12 months of additional cash assistance, known as TANF, to Arizonans who are engaged in job search activities and who are working hard to get their kids to school everyday – to help them get off unemployment and stop the cycle of poverty.
Waives professional license fees for jobs like being a real-estate agent, contractor or barber for citizens living in poverty, so these individuals can improve their lives and use their skills in a new trade or profession.
Creates five new specialists trained and tasked with fighting the opioid epidemic head-on.
Finances a "grandmother stipend" to help family members who are willing to step up to the plate for foster children in their own families, saving taxpayers the long-term costs of children under state care.
Funds drug-treatment counselors and a reentry planner designed to help those leaving our prison system acclimate to life after prison with things like housing and drug-treatment plans, and to improve their chances of never going back.
We accomplish all of this and more while preserving our structural balance — and without raising taxes.
With this budget we're doing what any Arizona family does: Putting our money where it's important, and doing it in a sensible, disciplined way.
How you can get involved
I want your input on the budget. I care about Arizonans' priorities and whether our constituents feel their needs are being listened to at the capitol. It's why I ran for office.
We live-streamed our budget release on Friday to give the public instant access. But in case you didn't get a chance to see it, my team will be traveling the state to hear your thoughts in person.
We also revamped our website — azgovernor.gov — in September to make our office more customer-service oriented and responsive to the immediate needs of constituents. If you can't make it to one of our upcoming budget events, contact me through our website.
We do care. We will hear you. And we will respond.
Because if we keep working together and listening to each other — with civility and respect — to make the right choices, it will position our state and our economy to lead the nation for years to come.
Opportunity for all means opportunity for everyone. Let's get to work and make it happen.
Doug Ducey is in his third year as Arizona governor. He delivered his State of the State Address on Monday and unveiled his proposed budget Friday of last week. To read the 2018 Executive Budget click here: https://azgovernor.gov/budget