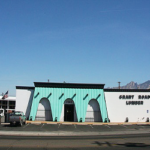 We don't normally report rumors, but since The Arizona Daily Star is reporting Phoenix restaurateur Sam Fox is looking to buy the Grant Road Lumber facility at 2543 E Grant Road in Tucson, we wanted to let you know what we were able to confirm.
Sam Huart and his sons, David and Steve closed the Grant Road Lumber business last August after 66 years since 1948 in business.
Fox aims to transform the former Grant Road Lumber facility. But he said the deal won't close until September, so he's reluctant to call it a done deal yet. Fox has begun the city's approvals though and has applied for a liquor license for Culinary Dropout, the restaurant at the center of the sprawling 19,000-square-foot complex that will include a covered "yard" with couches, fireplaces, corn hole games, foosball tables and other backyard-style activities. A 150-seat dining room called The Coop, where Fox said they will hold private parties, weddings and corporate events, rounds out the project.
It will be his biggest and most ambitious Tucson venture in the 18 years since he launched his restaurant career with the upscale Wildflower on North Oracle Road and Ina in 1998. And it will be his first new concept here in Tucson since opening Blanco Tacos and Zin Burger in 2007 downtown.
The Yard in Tempe at the Farmer Arts District opened in 2014. The Arizona Republic at the time called that the biggest project Fox had ever done. The Tucson concept will cost less than the $11 million Fox spent building the second Yard in Tempe.
Fox is hoping his move to Grant Road will spur a mini-renaissance of the area, which includes two neighboring restaurants: the popular Kingfisher Bar & Grill, which has been a Grant Road mainstay for more than 22 years; and Dante's Fire Cocktails & Cuisine, which has been around for several years.
"We're excited about it," Fox said. "We love the site, we love the history. It's my hometown and we get a lot of requests to bring a lot of our concepts to Tucson."
Fox says he has witnessed similar renaissances in Tempe and central Phoenix, where he opened his first Yard in a 55,000-square-foot motorcycle garage and dealership in early 2013.
"We have a vision that that whole area (Grant Road & Tucson Blvd) gets repurposed, and we hope we can be the genesis to jump-start that," said Fox, who will incorporate the salvaged bricks and boards from the original structures into the new construction. "We like to find old buildings that have soul and character and repurpose them."
Fox anticipates starting construction in September and opening The Yard in September 2017.
The work is being done by Common Bond Development, a company he has with fellow Tucson native Brian Frakes.
Tucson's Culinary Dropout will be Fox's sixth. In addition to three Phoenix-area locations, he has a Culinary Dropout in Las Vegas at the Hard Rock Hotel & Casino and is opening one this fall in Austin, Texas.
The property was marketed by Dean Cotlow of Cotlow Company in Tucson.
For more information, contact Cotlow at 520.881.8180.