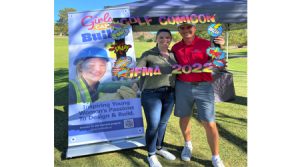 TEMPE, ARIZ. (Sept. 8, 2023) ‒ When golfers tee off at the Greater Phoenix Chapter of IFMA Annual Charity Golf Classic Sept. 22 at the Arizona Biltmore Golf Club, it will be more than a spectacular fall day of networking on the links.
Four organizations – Girls Can Build, Lokahi Teams, the IFMA Foundation, and IFMA Student Chapter of Phoenix – will benefit from this year's sold-out event.
"I am so proud of our Golf Committee, which has supported community charities for more than 20 years," said MJ Nagarajan Gomathi with Terracon, President of the Greater Phoenix Chapter of IFMA said. "The charity golf event represents not only a delightful opportunity for our members to showcase their golfing prowess but also a powerful way for us to come together in support of our community. By merging our passion for facilities management with our commitment to philanthropy, we aim to make a profound impact that resonates far beyond the golf course."
A look at each of the beneficiaries:
Girls Can Build: This Arizona-based initiative is powered by woman-owned Sharp Construction with a mission to break down barriers to women in the industries of construction, design, and engineering. By spearheading and support projects, opportunities and mentorship in these industries, it aims to inspire young women to be "Bold to Build." Visit Girls Can Build at us.
Lokahi Teams: This organization emerged out of a pursuit to inspire and support the community through youth athletic programs, both recreational and scholastic. It ensures that every child has the opportunity to participate in as many athletic endeavors as possible. Lokahi Teams lends it support by providing participant fees, equipment, uniforms, and facilities. Visit Lokahi Teams at org.
IFMA Foundation: The foundation works for the public good in support of facility management higher education, students studying facility management and related fields, research critical to the profession, and increasing awareness of facility management and making facility management a career of choice. For more information visit ifma.org.
IFMA Student Chapter of Phoenix: Recognizing the significance of fostering the next generation of facility management leaders, the Greater Phoenix Chapter is dedicated to providing guidance, mentorship, and resources to its student members. Through various initiatives, events, and collaborative endeavors, the chapter aims to bridge the gap between academic learning and real-world industry practices, empowering students to thrive in the field of facility management. This partnership not only strengthens the local facility management community but also reinforces a shared commitment to excellence and innovation in the built environment.