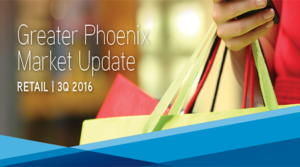 Vacancy Increased Slightly in Third Quarter and Sales of Retail Centers Dipped
Phoenix, AZ –   The Greater Phoenix retail market experienced a cooling effect over the summer months of third quarter with net absorption slowing and vacancy rising for the first time since 2014.  Colliers experts anticipate a strong finish for 2016 as fourth quarter retail picks up pace.  The retail report by Colliers International in Greater Phoenix can be accessed by clicking Here.
Net absorption remained positive in the third quarter, but had declined to just 77,000-square- feet compared to 320,000-square-feet in the second quarter.  This was the lowest quarterly figure for retail net absorption in nearly five years.  Fourth quarter is historically strong for absorption as retailers expand to meet heightened demand of holiday shopping.  A strong fourth quarter will signal that the third quarter performance was a short-term slide, as opposed to a change in direction of the Phoenix retail market.
Vacancy of Metro Phoenix retail space rose from 9.4% to 9.6% during third quarter.  Despite this quarter of increase, the vacancy rate is down 20 basis points year over year.  This increase is attributable to positive net absorption not being strong enough to keep up with new development.
Asking rental rates rose during the past three months, but are up less than 1% from one year ago.  Stronger rent growth will come when we experience a more robust pace of absorption in the market.  Some of the strongest rent growth is being seen in the West Valley where vacancy is low and net absorption has been strong for the past several years.  East Valley rents have pushed higher as well, but vacancy improvement has leveled off in this area.
Sales activity of shopping centers has been uneven during 2016, accelerating in the second quarter and slowing down in third quarter.  Year to date, sales velocity is up 12% from the same period in 2016.  The median price fell slightly during the past three months to $125 per square foot.  Cap rates are compressing in response to a strengthening economy and continued low interest rates.  Cap rates dipped below 7% in the third quarter and the 2016 average is 7.1%, down more than 50 basis points from 2015.
The retail market in Metro Phoenix is mimicking the overall local economy.  The market is expanding, but at a slower pace than in the first few years of the economic recovery.  The historic strength of fourth quarter in retail indicates the final months of the year will be good. The projected 2017 expansion of employment, population and housing sales will help to drive forward the retail market.  Colliers International anticipates some store closures in the first few months of the new year that will drag slightly on retail absorption.  Thus far, store closures have been successfully backfilled with new retailers, which reduces the fear of a negative impact that future closures might present.