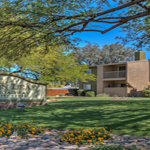 ABI Multifamily, Arizona's largest locally operated dedicated multifamily brokerage and advisory services firm, is pleased to announce the $8.65 million ($47,011 per unit) sale of the Green Leaf at Broadway Apartment Homes, a 184-unit apartment community located at 8880 E Broadway Blvd. in Tucson, Arizona.
Green Leaf is an all two-story apartment community built in 1980 and renovated in 2015.  The property consists of an attractive mix of 60% (110) 1-bedroom and 40% (74) 2-bedroom unit types with an average size of 676 square feet.  Approximately 35% of the units have undergone renovations.  The property is individually metered for electricity and was constructed of wood frame/stucco.  Green Leaf has 10 total building structures, a dedicated leasing center and clubhouse.  Additional property features include: swimming pool, spa, basketball court, fitness center, two on-site laundry facilities, ample parking, and BBQ grill areas.  The property was approximately 95% occupied at close of escrow.
Located in the Southeast Tucson Submarket, Green Leaf is approximately a mile from Park Place Shopping Center, one of the most popular shopping malls in the Tucson Metro. Significant employers in proximity to the property include University of Arizona, Raytheon, Davis-Monthan Air Force Base, and Tucson Medical Center. "The Seller purchased Green Leaf as a distressed property in late 2013 and immediately implemented an overall rehab and repositioning plan, which included extensive exterior/common area and select interior apartment unit upgrades," states Alon Shnitzer, Senior Managing Partner at ABI, who was the lead broker representing the Buyer and Seller in the transaction. "The buyer and seller are very experienced apartment owners and were a pleasure to work with.  In addition, on-site management was retained which helped make this an extremely smooth transaction."
"The Southeast Tucson Submarket is absolutely exploding in population growth," states Lance Parsons, CCIM, Vice President at ABI, who also represented the Buyer and Seller.  "From 2000, not only has the population increased 22% but median and per capita incomes have risen 33% and 32% respectively.  Given that most construction, in the Metro, has focused on the downtown and surrounding environs, the Buyer has an excellent opportunity to capitalize on completing the renovations started by the Seller and provide essentially newer product to a Submarket that most certainly is in demand of it."
The Seller is a partnership formed through Bruce Ash, President/CEO of Paul Ash Management Company, LLC.  The firm is a privately held investment and property management partnership based in Tucson, Arizona.  Paul Ash Management Company, LLC operates multi-family, HOA, retail, industrial and public sector assets in eight different states across the country.
The Buyer is a private capital group based out of California.
The ABI Multifamily brokerage team of Alon Shnitzer, Lance Parsons, Ryan Kippes, John Kobierowski, Rue Bax, Doug Lazovick and Eddie Chang represented the Buyer and Seller in this transaction.
For more information, Shnitzer can be reached at 602.714.1283 in Phoenix and Parsons should be contacted at 520.265.1945 in the ABI Tucson office.
To learn more, see RED Comp #4122.