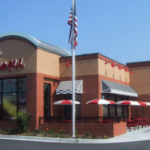 Restaurant chain Chick-fil-A  plans to open 102 new locations across the country in 2013, including 78 stand-alone, one drive thru, four in-line and two mall restaurants to go along with 17 licensed locations. The company continued to grow in 2012, increasing the number of new restaurants initially planned for the year and reporting a record-setting annual sales of more then $4.6 billion in 2012.
Whole Foods says it plans to take "a good hard look" at parts of the Fresh & Easy chain that British retailer Tesco is divesting in California. Bolstered by healthy cash flow and no debt, the organic grocer plans to introduce 32 new stores during fiscal 2013 and an additional 33 to 38 units the following year. Tesco has announced that it intends to leave the US market and abandon the Fresh & Easy Neighborhood concept that has been losing money. The future of these 200 grocery stores remains in limbo, with lots of interest from potential buyers.
As the housing market begins to take hold, home improvement chains are again experiencing positive store sales growth and returning to expansion.  During the recession, comparable store sales from Home Depot and Lowe's posted declines that peaked in 2008 and spurred the closing of a combined 105 locations between 2009 and 2012. Since then store sales have steadily improved and regained positive territory during 2010, a 2.9% sales increase for Home Depot and  1.3% growth for Lowe's. In fiscal year 2012 growth improved to 4.6% for Home Depot and 1.4% for Lowe's. Although Lowe's has added more stores over the past two years, Home Depot remains the growth leader.
Lowe's will continue to add new stores at a more measured pace in the near-term, remaining cautiously optimistic about the recent housing recovery. The home improvement chain introduced 10 new locations in 2012 and projects a similar number for the current year. Lowe's expansion strategy is focused on under-penetrated urban markets where it believes it can take advantage of favorable site costs , reasonable municipal requirements, and attractive returns on investment.
Office supply chain Staples announced it will more aggressively trim its North American store base than previously projected. The company reported that it is on target for a reduction of 40 stores in 2013, compared to its earlier expectation of 30 stores.
Electronics retailer Best Buy has highlighted several priorities in its turnaround efforts, including accelerating online growth and optimizing its US real estate portfolio. The company closed 47 stores, while opening 105 Best Buy Mobile standalone units during 2012. Occupancy cost reductions continue to be a key focus for the company and it says it has made significant progress renegotiating leases. Additionally Best Buy will reduce space allocated to the negative growth and low margin CD and DVD categories while replacing it with higher grossing products like mobile, appliances, and accessories. The retailer plans to close an additional five to ten US Best Buy locations and open a small number of mobile units in 2013.
Sponsored by Stewart Title and Trust - The only title company named one of
 "AMERICA'S MOST TRUSTWORTHY COMPANIES" in 2012 by Forbes®.
Contact Stewart Title & Trust of Tucson at (520) 327-7373 for your next closing.