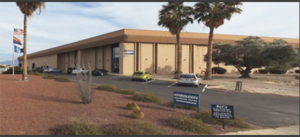 TUCSON ARIZONA – Harsch Investment Properties, a Portland-based real estate investment, development and management company, continued its aggressive growth in Tucson, Arizona with the purchase of 2201 East Medina Road in Tucson for $10.5 million ($72.50 PSF) from Intercontinental Real Estate Corporation of Boston, MA.
The property is 144,900-square-feet and was fully occupied by Ferguson's Plumbing when it sold in this investment sale. Ferguson is the largest distributor of residential and commercial plumbing products, offering: water heaters, pumps, pipe, valves, fittings, equipment, faucets, fixtures and accessories. With over 1300 locations, Ferguson plumbing locations are sure to provide the right products and services for any plumbing project, from plumbing fixtures for a home or commercial pipe valves and fittings. Ferguson continually strives to stay a plumbing industry leader.
The industrial property acquisition puts the company's industrial portfolio at just under 600,000-square-feet in the Tucson metropolitan area. In May it acquired, Oro Valley Commerce Center, a 45,490-square-foot industrial R&D investment property.
Other properties in its portfolio include 57,263-square-feet at Butterfield Corporate Plaza, 67,280-square-feet at Rose Garden Commerce Center, 130,000-square-feet at Tucson Airport Center and 113,546-square-feet at Tucson Airport Distribution Center.
Bill Divito and Jesse Blum with the CBRE Tucson office handled this latest transaction for the seller.
To learn more, Divito and Blum should be reached at 520.323.5100.
For additional information, see RED Comp #6340.