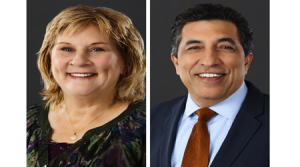 SCOTTSDALE, ARIZONA (July 14, 2023) – Harvard Investments announces the departure of longtime senior executive Kathe Astrom and welcomes recent Harvard FirstStreet, Estrella, and professional hires.
Leadership Team Departure
Katherine L. Astrom, Chief Financial Officer, Vice President & Treasurer
After 35 years at Harvard Investments, Katherine (Kathe) Astrom announced her retirement effective June 30. Astrom served as the CFO at Harvard Investments, guiding the financial well-being and growth of the firm. Astrom is a Certified Public Accountant experienced in finance, accounting, audit, and tax reporting.
She began her career as an auditor with Deloitte & Touche, joining Harvard Investments in 1988. Astrom has been a steady and insightful financial leader for Harvard through multiple recessions and the many challenges of the real estate development industry.
Through her work and contributions to the team, she played a pivotal role in Harvard's achievements and laid the foundation for its future success. Astrom is a member of the American Institute of Certified Public Accountants, Arizona Commercial Real Estate for Women, Urban Land Institute, the Arizona Society of Certified Public Accountants, and the Construction Financial Management Association. She leaves Harvard Investments to pursue her personal interests.
New Personnel
Tiffany Greene
Greene joined Harvard Investments in May as Real Estate Legal Coordinator. Her primary roles include supporting and facilitating real estate, loan and business transactions, the formation and annual servicing of project entities and partnerships, and managing an array of legal, title, and corporate documents.  Her prior work experience includes positions as an escrow officer at Premier, Landmark, and Orchard Title Agencies as well the Portfolio Assistant for L. Roy Papp & Associates. Greene is an active Notary Public for the State of Arizona.
Harvard — FirstStreet Division
Harvard Investments continues to grow personnel for its Harvard FirstStreet division, which develops build-to-rent (BTR) communities in Arizona, New Mexico, Texas, and Nevada.
Robert Trujillo
Robert Trujillo joined the Harvard team as Vice President – Harvard FirstStreet in August 2022. Trujillo's primary responsibility is to provide day-to-day leadership of the Harvard FirstStreet division. Trujillo brings to Harvard more than 25 years of experience in the real estate industry, primarily in multifamily development. He has a Bachelor of Architecture degree from the University of Kentucky and a Master of Architecture from the University of New Mexico.
Over his career Trujillo held development and leadership roles in multifamily companies in Santa Fe, New Mexico, the southeastern U.S., and most recently in Phoenix at Hines. He brings experience across the development spectrum including site acquisition, financing, construction, and property management. Trujillo's experience, leadership, and vision for the future of the BTR market fit well with the existing FirstStreet team and Harvard's future goals.
Janelle Humphrey
Janelle Humphrey joined Harvard Investments in November 2022 as Controller – Harvard FirstStreet Division. She leads the division's accounting team, overseeing the accounting, financial reporting, and construction financings. Humphrey received her degree in finance from the University of Arizona and an MBA from the University of Phoenix.
Prior to joining Harvard Investments, Humphrey worked as the Controller for Garrett Walker Homes in Phoenix and as Director of Finance/Controller for Landsea Homes of Arizona following Landsea's acquisition of Garrett Walker.
Nathan Shooks
Nathan Shooks joined Harvard Investments in February as Senior Development Associate – Harvard FirstStreet Division. His primary roles include financial analysis, development planning and execution, and asset management for BTR communities. Shooks earned his degree in finance from Northern Arizona University.
He holds his FINRA Series 7 and 63 licenses. Prior to joining Harvard Investments, Shooks worked for several real estate companies including VEREIT, CIM Group, MOVID, and Urban Communities.
Estrella Development Company
Estrella is one of the largest master-planned communities in the U.S., located in Goodyear, Arizona. Purchased in partnership with Värde Partners and Toll Brothers, Harvard Investments serves as the managing partner.
Aaron Pederson
Aaron Pederson joined Estrella in May as Director of Finance. He is an experienced finance and accounting professional with extensive real estate experience including loan consummation/negotiation, land underwriting, and homebuilder finance/accounting.
Most recently Pederson was director of finance at New Home Co. Prior to that he was at Macerich (a national retail mall owner and operator) for 10 years.  Pederson grew up in northern Minnesota. He graduated from the University of Minnesota with a double major in accounting and finance and a minor in risk management/insurance.
Rebecca Palacio
Rebecca Palacio joined Estrella in November 2022 serving as Contracts Coordinator. Her focus is contract oversight and associated accounting functions, along with project coordination. Prior to joining Estrella, Palacio worked for several real estate related companies including the Velocity Retail Group, The Opus Group, and Cushman & Wakefield.