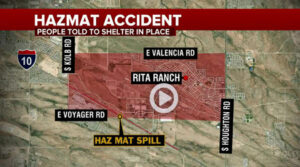 PIMA COUNTY, February 15, 2023 – A shelter-in-place order was extended Wednesday morning, Feb. 15, to include a 3-mile radius around the scene of a deadly crash and hazmat spill on Interstate 10.
The incident between Kolb and Rita roads forced evacuations in the area on Tuesday, Feb. 14. The Arizona Department of Public Safety Unified Command said those who are currently evacuated should expect to remain displaced until approximately mid-day Wednesday.
Shortly after the shelter-in-place order was extended, the Vail School District announced that all its schools would be closed Wednesday.
The Pima County Health Department working with the Arizona Poison and Drug Information Center have released the following guidance for any person who believes they may have been exposed to the toxic fumes associated with a hazardous materials spill on Interstate 10 Feb. 14.
The hazmat incident is ongoing as state and local emergency response agencies work to clean up the spill and remediate the accident scene.
The spill was nitric acid. Concentrated nitric acid is also called fuming red nitric acid and releases a gas, nitrogen dioxide. Nitrogen dioxide is a slightly irritant gas that with prolonged exposure especially in a confined space with the source of nitrogen dioxide, can cause delayed lung complications up to 24 hours after exposure.
Pima County Health Department and Poison Control are recommending that individuals who may have been in contact with the gas for more than 15 minutes assess themselves for exposure risk.
If an individual has met that 15 minute or more exposure within a mile of the incident and developed respiratory difficulties or new symptoms (wheezing, shortness of breath; difficulty breathing, exacerbations of COPD or asthma) they should seek medical evaluation. It is possible that individuals who lived within a mile of the exposure and sheltered in place but were using air exchange that pulled air from the outside may have met this threshold.
People who drove through or past the accident and chemical plume should not have met this threshold.
If exposed, people may have delayed onset of symptoms, up to 12-24 hours later.
Any respiratory difficulties or symptoms (wheezing, shortness of breath) should be evaluated by your doctor, or at an urgent care center or emergency room.
Go to www.pima.gov/acidspill for more information about how to determine if you have symptoms related to this incident.
For up-to-date information about the accident and its status overall, go to the Arizona Department of Public Safety's Information Page, https://www.azdps.gov/news/ims/92