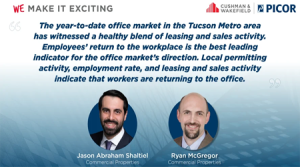 By Jason Abraham Shaltiel and Ryan McGregor reprinted from The Trend Report, October 2023 Edition 
TUCSON, ARIZONA (October 13, 2023) -- The year-to-date office market in the Tucson Metro area has witnessed a healthy blend of leasing and sales activity. While some property owners may have concerns, the overall indicators point to positive developments for the entire Tucson office market. "Until we get to a place where we are not required to have documents signed with ink we're going to have a heavy presence of people (in our office)," said Eric Schroeder, the president of Fidelity National Title Agency of Southern Arizona "We found that as we (reopened our offices) the majority of our staff wanted to come back."
As part of an ongoing trend, office users have pursued high-amenity locations in a "flight to quality," searching for space to lease and purchase. According to a CoStar report on the Tucson office market, the submarkets with the highest lease rates correlate with lower occupancy rates. The report cited the metro area at 2.3%, the Northwest close behind at 3.7%, and the Foothills at 9.3%.1 Some analysts attribute record construction costs and limited inventory as major factors to the flight-to-quality trend. The segments of Tucson lacking in leasing and sales activity include the East and Southeast sides, which highlight the issue with vacancy rates rising to 21.9% and 25.5% in each.1 The higher vacancy numbers could be distressing but also point to opportunity.
Broker–investor Bob Camino recently converted approximately 4,000 square feet of what used to be a call center on the East Side of Tucson into executive offices at 2500 N Pantano Road. "With (some) small businesses, people wanting to get out of their homes," he said. "Some people are willing to pay a small amount of money (for) offices, especially (personal care) businesses who don't want (clients) coming to their homes."
Employees' return to the workplace is the best leading indicator for the office market's direction. Local permitting activity, employment rate, and leasing and sales activity indicate that workers are returning to the office. Local office employers promoting their employees' return to the workplace are reaping the rewards of an active, collaborative, and productive workplace. Whether incentivized or mandated, employers likely will continue to extol the benefits of working from the office for their employees, chiefly collaboration and integration, which directly impact morale.
"Remotes are generally unreliable and are not a good way to increase productivity at the office." Said David Cutler, the principal of a CPA firm that employs 60 people. "Productivity went way down, and it wasn't until we got people back into the office that we were able to get productivity way up," he said.
The trend shows workers returning to physical offices in most professional settings. In a study published by Forbes in June of 2023,2 the magazine found that 59.1% of all office workers were working in their offices full-time, 28.2% were on a hybrid work schedule, and 12.7% were full-time remote. Nationally, major companies such as Amazon and Twitter demand that workers return to the office.The Federal government has also pressed employees to work full-time from their offices. Jeff Ziets, the White House Chief of Staff, emailed a memo to Cabinet officials in August demanding them "to aggressively execute this shift in September and October."3
Large call center spaces are facing some of the highest vacancies in the local market; many have been sitting empty for three years or longer. New leases for call centers are not being signed. A subset of call centers was fitted out from former warehouses or distribution buildings, and some owners are solving their vacancy problems by converting them back to their intended use, with industrial space in high demand. HSL Properties Campus successfully converted approximately 60,000 square feet (sf) of call center space into a cannabis cultivation center at its Campus at Tucson International. The owner of 6221–6223 S. Palo Verde also recently converted approximately 60,000 square feet back into a warehouse.
Call centers are not the only segment of the office market facing challenges; there are segments of the retail market languishing, too. Many large retail spaces sit vacant largely due to the e-commerce revolution and pandemic. Some retail owners are considering office use, among other ideas for conversion.
Supply is high with many empty call centers and large office spaces on the market. Large vacant office footprints will compete with similarly sized retail spaces as candidates for residences or larger assisted living facilities. Demand for those products is comparatively high, as is demand for space to support the immigration influx.
While construction costs impact the viability of conversions and varied adaptive reuse opportunities, high costs also hamper new development. As there are more vacant office buildings than vacant retail structures, the conclusion that more conversion opportunity exists for the office market is apparent. The office market has reached a similar inflection point, which brought about the E-Commerce revolution in the retail market; the office market's moment may be at hand.
1 Costar 3rd Quarter 2023 office market report
2 https://www.forbes.com/advisor/business/remote-work-statistics/
3 https://www.washingtonpost.com/politics/2023/08/04/white-house-urges-federal-workers-return-office-this-fall/
Jason Abraham Shaltiel is a specialist in the brokerage of office and healthcare properties. Before joining C&W | PICOR, Shaltiel began his real estate career with a high-producing boutique residential brokerage in Tucson. He brings a background in business development, marketing, and sales to the team, and his experience in journalism provides a relevant skillset in ethics, research, and communication. He can be reached at jshaltiel@picor.com.
Ryan McGregor joined Cushman & Wakefield | PICOR's office division after launching his real estate career in residential brokerage with a top-producing luxury team in California. He has been active in commercial real estate since 2004. He can be reached at rmcgregor@picor.com.