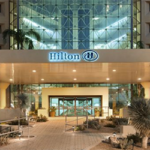 $8 Million Property Renovation Planned to Transform Hotel Back to Original Glory
Caliber Hospitality, a division of Caliber-The Wealth Development Company, acquired the 7-story, 232-guestroom, Hilton Tucson East in Tucson, AZ, for $9.27 million ($39,947 per room). Located at 7600 E Broadway Blvd. in Tucson's business district, the property features 12,000-square-feet of meeting and convention space, a pool and upgraded dining facilities.
Purchased with private investor equity, (Tucson East LLC, Sam Fox, manager) in partnership with the Caliber Distressed Real Estate Income Fund (CDIF, LLC), Caliber plans an $8-million property renovation. The Hilton Tucson East purchase expands Caliber's lodging investment portfolio to six hotel properties in both Arizona and Alaska, and includes Crowne Plaza, Hampton Inn & Suites and Holiday Inn & Suites. As with all of Caliber's hospitality holdings, HMC Hospitality will manage the hotel's day-to-day operations.
Chris Loeffler, CEO and co-founder of Caliber-The Wealth Development Company said, "The Hilton Tucson East is the proverbial 'diamond in the rough' that with the proper renovation plan and managerial expertise, will be transformed into one of the finest hotels in Caliber's portfolio." He added, "The property will provide significant investor value creation as it was purchased approximately 70% below estimated replacement cost. Due to its solid market fundamentals, we've wanted to expand within Tucson beyond our current single-family and multi-family residential portfolio. This hotel is an excellent opportunity to do just that."
The hotel is located on 6.36 acres between Downtown Tucson and Saguaro National Park and is along one of Tucson's main east-west thoroughfares, Broadway Boulevard. "We're thrilled to partner with Caliber, and excited to revitalize and restore this property to its original beauty," said Frank Heavlin, president of HMC Hospitality. "We've set into motion our personnel and property plans in order to elevate services and provide an exceptional experience for our guests. This hotel will become a diamond in the Caliber /HMC hotel portfolio."
Caliber assists investors in building their wealth through both equity and debt real estate based investments, either through individual assets, or through private funds. Caliber is focused upon opportunistically acquiring various types of commercial assets, with in place cash flow, and maintaining low leverage on them. Through its proven renovation and management expertise, Caliber is able to increasing revenue, maximize tax benefits, all the while protecting investor capital. Caliber currently invests in Hotels, Self-Storage, Apartment Communities, Single Family Residential Properties, and Office Buildings. Caliber is a fully, vertically integrated, full service real estate investment firm controlling all aspects of the investment cycle. Services include acquisitions, construction, development, property, and asset management.
Bill Murney with HREC Investment Advisors of Phoenix handled the transaction for the seller, Champion Investment Corporation (Chia Sheng Hou, CEO) based in Poway, California.
To learn more, see RED Comp #3963.
For more information, Murney can be reached at 602.732.4777.