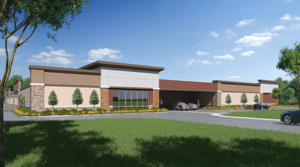 PHOENIX, Arizona – Hines, the international real estate firm, is further diversifying its portfolio by launching a high-end, self-storage expansion strategy in the Southwestern U.S.
Hines will soon break ground on the Valley's first Class A self-storage facility in Gilbert and plans to build three to five more a year in well-populated growing suburban areas with high incomes. Hines will develop the facilities and partner with professional self-storage operators to manage the portfolio.
"Hines is known for landmark office projects and large-scale, mixed-used developments which can take years to develop from start to finish. We are diversifying our portfolio and increasing our volume of projects with self-storage facilities, which are becoming a desired amenity and take a year or less to build," said Chris Anderson, managing director and Arizona leader for Hines. "In addition, the timing is right. High-end, self-storage projects are becoming a new trend as people live in smaller houses and need more storage."
The first project, Val Vista Self Storage, is in Gilbert at the northwest corner of Val Vista Drive and Queen Creek Road, part of a 20-acre commercial mixed-use development. The 75,000-square-foot, fully air-conditioned, secured facility will house about 510 units with individual access during non-business hours. W.E. O'Neil of Phoenix is the general contractor and RKAA of Phoenix is the architect. Construction is expected to be finished in early 2019.
Hines also is planning an 83,000-square-foot facility in Tempe and a 96,000-square-foot facility in Litchfield Park. Construction is expected to begin in the fall. Hines is also looking at options in Surprise, Scottsdale and Glendale.
Hines is continuing to diversify its portfolio in Arizona. In September 2017, Hines announced its first residential project in the state. Called Asteria Highlands, the new gated neighborhood in North Scottsdale will include 40 acres and 31 single-family lots. Hines recently topped out the Offices at Chandler Viridian, the capstone to Chandler Viridian, a mixed-use development. The Chandler Viridian master plan development is a 25-acre mixed-use project which includes the Offices at Chandler Viridian, a Cambria hotel & suites, Broadstone Fashion Center luxury apartments, sophisticated retail offerings at Chandler Viridian PRIMEGATE and a pedestrian promenade to the Chandler Fashion Center mall. Also in the Phoenix market, Hines owns Kierland One, a Class A 175,441-square-foot office building in the North Scottsdale Airpark submarket, and Goodyear Crossing II, a Class A industrial warehouse in Goodyear. Hines provides property management services for Renaissance Square, a two-building, high-rise office complex in downtown Phoenix.