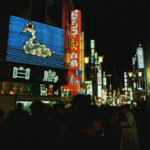 Hong Kong attracted significantly more cross-border retailers than in any other city in 2012, making it the world's most attractive retail market, according to a report by CBRE Global Research and Consulting. The firm annually maps the global footprint of 320 world retailers. These retailers targeted a wide range of locations in 2012 CBRE says, with 81% of the 208 cities surveyed seeing at least one new retailer entrant last year.
Hong Kong was by far the most sought-after city, with 51 new market entries from all sectors and not just the high-end fashion brands that have traditionally targeted that market. Followed by Germany with 41 new entrants, Ukraine with 38 and Brazil with 30 new entrants. Poland, in fifth place attracted 28 new entrants in eight cities, although Warsaw was by far the most significant target.
Canada was in joint sixth place with the United Arab Emirates, with all but four of the 25 new entrants in Canada originating from the U.S., an ongoing trend since the start of the recession with U.S. retailers targeting Canada because of its relatively strong retail growth and its close proximity to the U.S. home market.
These new entrants are principally from Europe, but also from the U.S., Japan and South Korea. Hong Kong provides an opportunity for retailers to capitalise on the emerging middle class population and tourists from mainland China. Hong Kong is often used as a launch pad for brands entering the region although increasingly retailers are entering Chinese cities directly. While luxury brands led the way in 2012, retailers from across the spectrum opened their first store in the city last year, including Pierre Cardin, Forever 21 and Cos, according to CBRE.
American retailers are by far the most global, according to the firm, with Italy, the U.K. and France making up the second tier of major exporters. Traditionally, U.S. retailers have focused on Asia and Western Europe markets, but increasingly they are targeting the Middle East (which made up 18% of new entrants by U.S. retailers in 2012), central and Eastern Europe (17%) and Latin America (10%). Retailers from Italy, the U.K. and France are focusing mainly on expansion into other European countries, although Asia is also a key target fro French and British retailers, according to Peter Gold, managing director of cross-border EMEA retail at CBRE.
Mature markets dominated retailers' expansion plans last year, although five emerging markets made the top 20. Kiev was in second place, with 39 new entrants. São Paulo (with 25 new entrants), Iasi (with 19), Muscat (17) and Ho Chi Minh City (15) and New Delhi (14) also were important target markets fro retailers.
Notable by its absence from the Top 10 was China which attracted only four new retail entrants, including Ted Baker and Forever 21, even though there were around 100 new non-cross border entries in the 16 Chinese cities surveyed.
Sponsored by Stewart Title and Trust - The only title company named one of
 "AMERICA'S MOST TRUSTWORTHY COMPANIES" in 2012 by Forbes®.
Contact Stewart Title & Trust of Tucson at (520) 327-7373 for your next closing.