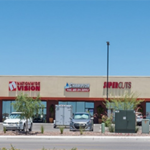 TUCSON, AZ — HTC Shops I LLC, an affiliate of Diamond Ventures (Chad Kolodisner, vice-president) sold the fully-leased outpad at 9160 S Houghton Road in Tucson in Houghton Town Center for $3.9 million ($422 PSF).
This was an upleg in a 1031 exchange for the investor, Hawaii Holdings of Princeville, HI (Rakesh Joshi) for the 9,235-square-feet building on a 12,023-square-foot lot. Built in 2015, the property leased with six tenants: Houghton Family Dental Care, SuperCuts, Nationwide Vision, Champion Pool & Spa Supplies, Papa Murphy's Pizza and opening soon, My Nails by Yen.
Anchored by Super Walmart, Houghton Town Center is conveniently located at Houghton and Old Vail Roads and is the first project of its kind to service Tucson's southeast valley. Houghton Town Center serves the communities of Rita Ranch, Vail and Corona de Tucson in the Tucson area.
The latest shops to open at Houghton Town Center have been Brake Masters in August and Papa Murphy's Pizza in July.  My Nails by Yen will be opening later this year.
Jamie Medress, Chris Lind and Mark Ruble with Marcus & Millichap of Phoenix represented the seller in the transactions and Marc Irvin with Marcus & Millichap of Atlanta, Georgia represented the investor.
For additional information, Medress can be reached at 602.687.6778, Lind can be called at 602.687.6780 and Ruble can be contacted at 602.687.6766. Irvin should also be reached at 678. 808.2725.
To learn more, see RED Comp #4168.