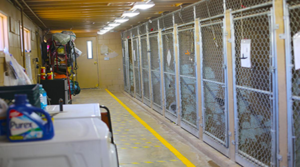 TUCSON, ARIZONA - On Tuesday, March 15th, Congresswoman Ann Kirkpatrick announced that over $1.1 million in federal funds have been appropriated to allow Cochise County, in coordination with the Humane Society of Southern Arizona and Friends of the Bisbee Animal Shelter, to design and remodel a vacant County building into a modern animal shelter managed by HSSA, saving thousands of lives in coming years. This funding is part of Rep. Kirkpatrick's Community Project Funding allocations included in the government funding package, "Omnibus" that passed last week.
Partnering with Cochise County government, the Humane Society of Southern Arizona began efforts last year to aid Cochise County pets in dire need through regular transfers of animals from Douglas to HSSA's Main Campus in Tucson, AZ. While assisting the existing Cochise shelters in this and other ways, HSSA has been working toward the creation of a full-service shelter in Bisbee to serve pets throughout southeast Arizona. Now the effort moves toward raising money to match the federal funds and get the shelter built as soon as possible.
"The Humane Society of Southern Arizona is grateful to be able to further our mission of serving pets and the people who love them by offering our services to the residents of Cochise County through this forthcoming state-of-the-art shelter. The new HSSA Bisbee Shelter will serve as a model for how large urban shelters can assist rural governments and animal advocates in our mutual goal of saving lives and maintaining public health. We are immensely grateful for our partners in Cochise County and the vision and action of Congresswoman Kirkpatrick, Senator Kelly, and the other members of the House and Senate for supporting this vital project." - Steve Farley, Humane Society of Southern Arizona
"I'm incredibly proud that my office was able to help secure federal funds for this investment that will save thousands of animals in southeastern Arizona," said Rep. Kirkpatrick. "Growing up in rural Arizona, I know how difficult it can be to get desperately needed resources, I believe this project can be a model for how rural communities approach collaboration toward animal welfare in under resourced, vast regions. I commend Steve Farley and the entire HSSA team, our Cochise County government, and local municipalities for their leadership and advocacy on this important project."
"This funding for Cochise County comes at a critical time. Animal Shelters across the county are crowded with pets seeking forever homes. We look forward to using these funds in partnership with the Humane Society of Southern Arizona to improve services in our region." -Sharon Gilman, Deputy County Administrator Cochise County
To learn more about how to help HSSA's current efforts and future plans for a Cochise County shelter please
click here
or reach out to HSSA's CEO, Steve Farley, at
sfarley@hssaz.org
or call 520-327-6088, ext. 183.