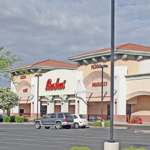 90 Percent Leased Retail Center Sold by CRE Firm LevRose to California-based Buyer
PEORIA, Arizona — LevRose Commercial Real Estate, a leading Arizona-based commercial real estate brokerage and management company, closed the sale of Thunderbird Village in Peoria for $12.5 million ($152 PSF).
Located at 7518 W. Thunderbird Road, the 82,099-square-foot building includes a 90 percent leased retail center. California-based company, Deerwood Retail Opportunities AZ, LLC, purchased the property from CAZCO Asset Management Inc. The brokers for the buyer were Trent McCullough, Mark Cassell and Greg Vanlerberghe of LevRose Commercial Real Estate and the brokers for the seller were Ryan Schubert and Michael Hackett of Cushman Wakefield.
"Trent, Mark and Greg found their client an outstanding property to purchase," said Jon Rosenberg, managing partner and co-founder of LevRose Commercial Real Estate. "It's not always easy to find a property with the quality of tenants and occupancy that this investment currently has in place."
With an expertise in both, office and retail tenant and landlord representation, sales transactions and property management, LevRose Commercial Real Estate has been serving the Valley since 1992. Locally owned LevRose is affiliated with TCN Worldwide, a consortium of independent commercial real estate firms providing complete real estate solutions locally, nationally and internationally.
For more information, please visit www.LevRose.com or call 480-947-0600.