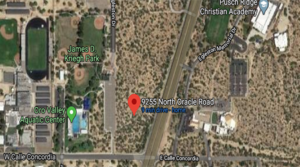 ORO VALLEY, ARIZ. – Oro Valley Self-Storage, LLC (Hank Amos, managing member) sold 5.875 acres at the northwest corner of Oracle and Calle Concordia to COMAR Investments, LLC an affiliate of Braintree Properties LLC (Russ Criddle, project manager) for $3,138,998 ($12.27 PSF).
The seller, Oro Valley Self-Storage, purchased the land for $2,106,618 from CCN Investments, LLC and Allergy Asthma Associates, P.C. Cash Balance Defined Benefit Plan, as part of a double escrow and had it rezoned from residential to Tech Park use with the Town of Oro Valley. It sold with a conceptual plan for a 1,000-unit self-storage facility according to public records.
The developer Braintree Properties from Boise, Idaho plans to develop the site for self-storage. With years of experience in the commercial real estate development space, Braintree Properties with offices in Canada and the U.S. prides itself on providing state-of-the-art facility solutions. Built on the pillars of leadership and grit, Braintree Properties is driven to help realize smart growth and profitability.
Hank Amos with Tucson Realty & Trust handled the first leg of the transaction in acquiring the land. No brokers were involved in the second leg to Braintree.
For more information, Amos should be reached at 520.577.7000.
To learn more, see RED Comp #7922.