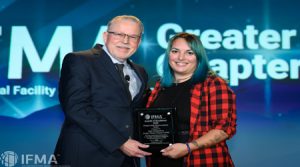 TEMPE, ARIZ. (Oct. 13, 2023) ‒ The Greater Phoenix Chapter of IFMA, the world's largest and most widely recognized international association for facility management professionals, won two national awards recently at the IFMA World Workplace Conference & Expo held in Denver, Colorado.
IFMA Greater Phoenix won the Chapter Web Communication Award and the Student Chapter of the Year Award.
The Chapter Award of Excellence in Web Communication is presented to the chapter(s) that provide comprehensive web-based communication to their members that informs them of chapter activities, related events, and opportunities. The ability to meet the needs of the viewer, appearance, quality, resources, and continual improvement will be reviewed.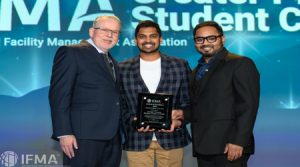 The Student Chapter of the Year Award is presented to the IFMA student chapter that best demonstrates an overall commitment to building a future in the facility management profession. This commitment can be demonstrated through the chapter's educational activities, programs, and internships. Innovative ideas such as community outreach programs or assisting local companies to better plan, design and change their facilities will be considered.
Within the last year, the Phoenix chapter has established not only a reliable and active LinkedIn profile, but also pages of integrity on Facebook and Instagram. Its directive is to reach all current and potential members, no matter their platform of choice, with details of available opportunities, upcoming events and more.
As of June, the chapter's LinkedIn page reached the PRMC goal of 1,500 followers; a 64 percent increase from June 2021 through organic marketing management methods. Although Facebook and Instagram are not seeing near the activity that LinkedIn does, both are still inching closer towards the goals with Instagram seeing an increase of followers by 88 percent since June 2021.
"Beyond the major milestones for our chapter, there are plenty of other communication initiatives also ongoing," said Kristy Schlesselman, Social Media Manager, Lead Management Institute and Co-Chair of the chapter PR and Marketing Committee. "They include prior installments such as weekly email campaigns with the goal to improve utilization, and chapter-specific group engagement and digitized member surveys."
The student chapter initiatives significantly impacted chapter members' lives and career advancement. Accomplishments include launching successful programs like G.R.O.W. (Get Ready for Opportunities at Work) and the Young Professional Mentorship program, providing hands-on experiences, exposure to industry professionals, and personalized guidance to students.
The chapter's student membership has seen substantial growth, increasing by 200 percent from the previous year and an impressive 750 percent increase since 2019. The student chapter's efficient organizational structure, including a constitution, responsibility matrix, and timeline guides, has been instrumental in its success and has served as a model for other student chapters.
"We have received accolades for our outstanding web communication efforts, recognizing our commitment to keeping our members informed and engaged. As someone who has seen our journey firsthand, I can attest to the dedication and hard work put in by our incredible team," said chapter President Monisa (MJ) Nagarajan Gomathi, CFM, FMP, SFP, FMG, Facilities Project Manager with Terracon. "Additionally, winning Student Chapter of the Year is a testament to the passion, energy, and unwavering commitment of our student members and the leadership that guides them. These awards are not just acknowledgments; they are a heartfelt reflection of our chapter's tireless pursuit of excellence and innovation.

"We are not only proud of our accomplishments but deeply humbled by the support and trust of our community and members. With immense gratitude, we look forward to continuing to serve our community and our members with the highest standards of professionalism and excellence," Gomathi said.
Past chapter President Marshall MacFarlane, Facility Services Manager with C3 Engineering, was inducted into the 2023 Class of IFMA Fellows at the World Workplace Conference & Expo.
Rick Corea Scholarship
Student chapter members Sri Nayani Gajji and Sriram Posinasetty are each recipients of the chapter-sponsored Rick Corea Scholarship. The scholarship is in honor of Rick Corea, IFMA Fellow, a retired Director of Global Facilities at ON Semiconductor.
Corea was a member of IFMA and the Greater Phoenix Chapter from 2003 until he retired in 2020. He chaired Phoenix Chapter committees, served on the Board of Directors as Vice President, served as President twice, and was the catalyst behind the creation and success of the Greater Phoenix Student Chapter.
 PHOTO CAPTIONS:
Image 1 – Dean Stanberry, SFP, CFM, Chairman of the IFMA Global Board of Directors (left) presents the Web Communication Award to Kristy Schlesselman, Social Media Manager, Lead Management Institute, and Co-Chair of the IFMA Greater Phoenix Chapter PR and Marketing Committee.
Image 2 – Dean Stanberry, SFP, CFM, Chairman of the IFMA Global Board of Directors (left) presents the Student Chapter of the Year Award to IFMA student chapter members Vinay Sekhar Reddy Karri and Krishna Chaithanya Goud Talla.