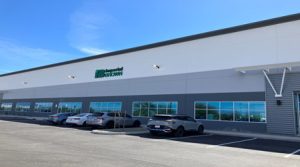 4th Factory Means Majority of U.S. Population Within 500 Miles
TUSCON, AZ (May 10, 2023) - Imperial Brown®, (IB) a leading manufacturer of custom walk-in coolers and freezers, will begin production at its new manufacturing plant in Tucson, AZ, in the second quarter of the year.
The Tucson factory, located at 3350 East Medina Road, is the company's fourth plant and its first greenfield project. With 102,000 square feet under roof, the factory will reduce shipping costs and lead time for delivery of walk-in coolers and freezers for clients in the Southwestern U.S., including the states of Arizona, southern California, Nevada, New Mexico, and portions of Utah and Colorado.
The fourth location means that Imperial Brown has two-thirds of the U.S. population within a 500-mile radius of its plants, according to Justin L. Sandall, President & CEO. "With rising freight costs and a very bulky product, this level of distributed manufacturing is a strategic advantage for the company's clients, many of whom have very large national footprints and growth plans," he said.
Other factories are strategically located in Gresham, OR, Salisbury, NC, and Prague, OK.
The new factory will initially employ 65 employee-owners with an expected economic impact of $225 million over the next 10 years.
"As Imperial Brown's first greenfield project, Tucson has benefited from the collaboration, input, and expertise of IB's existing three factories and their combined 200+ years of experience in the industry," Sandall said. "Incorporating best practices, equipment technology and employees from our operations around the nation, Tucson represents the best of IB – the best the industry has to offer." Imperial Brown relocated employees to Tucson during the building process.
Sandall called the factory the first significant new factory in the industry in recent years. With other companies closing factories, IB has responded to the market's needs by adding its fourth plant to an underserved area, he said.
Steve Bert, Vice-President of Sales & Marketing, said the factory means Imperial Brown can "more fully cover the U.S. in this ever-changing and challenging business environment. Tucson will help our Oregon and Oklahoma factories reduce some lead time by taking some of their work that ships to the Southwestern states. Customers in the Southwest will greatly appreciate a more local manufacturing presence. Our entire sales team is very excited and wants to make this newest factory grow at a steady pace."
The new factory is a stand-alone building located in the Tucson Airport Distribution Center with close access to Interstate 10, Interstate 19, and the Tucson International Airport. It features 32-foot clear height, 72 truck courts that are 90 feet deep for trailer storage, ESFR fire protection, 105 vehicle parking spots, 24 dock positions, and 8 grade doors. VLMK Engineering + Design designed the building and Chasse Building Team was the general contractor.
Tucson project partners include Sun Corridor Inc., Pima County, City of Tucson, Arizona Commerce Authority, Harsch Investment Properties and the Economic Collaborative of Northern Arizona.
Imperial Brown has experienced constant growth since the merger of the West Coast and East Coast manufacturing facilities 11 years ago. In 2012, Imperial Manufacturing of Portland, OR, acquired W.A. Brown & Son of Salisbury, NC, and merged the two companies into Imperial Brown. With the merger, Imperial Brown developed the industry's first and only hybrid construction technology – blending methods used on both coasts, to achieve the best-of-both-world results for its clients. Subsequently, the company purchased Artic Temp in Prague, OK, and has also moved into a new facility in Oregon – more than doubling the size of that factory. It has added and replaced technology and equipment in all facilities, reducing the manufacturing footprint and redundancy, leveraging technology to increase efficiency and enhance product flow. The result has been staggering growth in market share – including being one of very few manufacturers to grow during the height of the pandemic in 2020.
Sandall said that culture is Imperial Brown's top priority. "We are the best at what we do, and we must be," he said. "Beyond the typical supermarket, convenience stores and restaurants, IB serves some of the highest profile and most demanding customers and applications in the industry," he said. "Throughout the industry, we are known as the company to call when everyone else says no. Maintaining this position and reputation requires work. We cross train, update equipment and technology, streamline processes and work creatively to better our products. That means quality products that are cost-effective for our customers."
Imperial Brown is a 100 percent employee-owned ESOP company. A leader in temperature management facilities for food service, biotechnology, medical and building construction industries, IB manufactures walk-in coolers and freezers for restaurants and commercial kitchens, cold storage components for fish processing plants, ice makers for dam construction, wide range testing chambers, pharmaceutical development and manufacturing, growth chambers, high humidity and dry chambers, robotic enclosures, and archival storage chambers for some of the most valuable and fragile documents in human history.