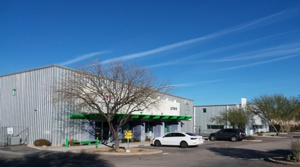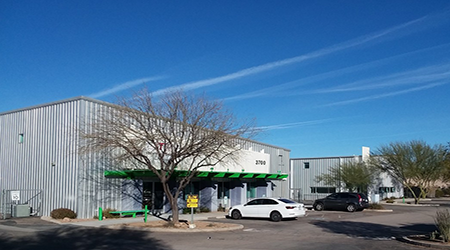 Tucson, Arizona – Rio Equity Group, LLC of Tucson (Walter Hoge, manager) purchased 27,208-square-feet of industrial space located at 3650-3700 S. Palo Verde Rd. in Tucson for $2.6 million ($95.56 PSF). The investment property, consisting of two warehouse buildings occupied by one tenant, was purchased from Black Rock Ventures, LLC also of Tucson (Janice Kay Yelliott Ulrich, manager). The buildings sit on 3.27 acres that includes 1.38 acres of excess land for future expansion or development near the Tucson Airport along the Palo Verde industrial corridor and Interstate 10.
ITW Polymers Sealants North American, Inc., one of eight large business segments forming Illinois Tool Works, Inc. (NYSE: ITW), a Fortune 150 Company, occupies the property and have been a tenant since it construction in 2000.  ITW Polymers Sealants North America, Inc. offers expanded sealants solutions to various industries and its key markets including construction (roofing, surfacing, metal building, and fenestration), aerospace composites and wind energy. The company's brands with a proven history of success include ERSystems®, Permathane®, Tacky Tape®, STA'-PUT®, Pacific Polymers®, Acryl-R®, Miracle®, and Elastek®. ITW Polymers Sealants North America, Inc. has five facilities operating in Texas, Georgia, Massachusetts, Arizona and California. The division headquarters is located in Irving, TX.
Cushman & Wakefield | PICOR handled this transaction.  Brandon Rodgers, SIOR, CCIM, and Stephen D. Cohen, Principals and Industrial Specialists represented the seller; Thomas J. Nieman, Principal and Office Specialist, represented the buyer.
For more information, Rodgers should be reached at 520.546.2714 while Cohen is at 520.546.2750; Nieman can be contacted at 520.546.2728.