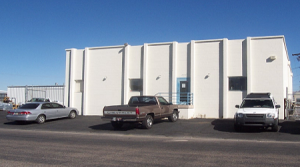 TUCSON, ARIZONA (June 16, 2023) Tucson-based Long Far Investments, LLC (Susan Petrus, member) purchased an 8,000-square-foot building at 2055 E 17th Street in Tucson for $675,000 ($84.38 PSF) for investment.
The seller, R2eWaste of Phoenix (Kailin Lin, member), bought the property while occupying it as a tenant in February 2022 for $595,000, dba R3eWaste, a computer and electronics recycling company.
Built in 1974, the building has a fully fenced paved lot, one 10'x 12' grade level, one 10' x 10' dock high door, 120-280 V, 3-phase, 800-amp power, and 2,000 square feet of air-conditioned office space. The warehouse, another 3,000 square feet of swamp-cooled area, and 3,000 square feet not cooled with two restrooms.
The tenant, Livestream Shopping, Inc, is a marketing service brands use to promote and sell products through livestreams on digital platforms, often in collaboration with influencers.
The aim is to provide consumers with an immersive and interactive experience, allowing them to ask questions and buy products during the livestream.
It started in Asia in 2017 and then expanded to the rest of the world over the following years.
Live streaming is a type of streaming that allows, through the Internet, to transmit or receive a particular content while the event is taking place. In this case, the event is a live product presentation followed by consumers from different locations.
Livestream shopping consists of livestreams on digital platforms (e-commerce) or social media  (Facebook, Instagram, etc.) where an influencer promotes a product or a brand. While the influencer promotes, people can watch these livestreams and ask questions live; they can chat or buy products from the shop. In this way, the activity of shopping is translated from offline into the digital world.
The aim is to ensure that consumers get wholly involved in the live sale that may take place on the other side of the world without being physically present.
Livestream shopping represents a bridge between entertainment and online shopping; that's why this phenomenon can potentially become the new norm for e-commerce in China. It became widespread during the pandemic lockdowns.
Paul Hooker, SIOR, Principal, Industrial Specialist with Cushman & Wakefield | PICOR represented the seller in the transaction.
For more information, Hooker can be reached at 520.546.2704.
To learn more, see RED Comp #10653.