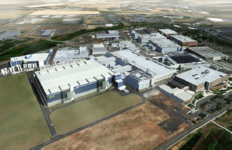 Chandler, AZ - The Arizona Republic is reporting that Intel has confirmed it is leaving vacant a massive new multibillion-dollar computer-chip factory in Chandler that President Barack Obama once touted as a symbol of the future of U.S. manufacturing. The company said in February 2011 it was investing over $5 billion in the new Fab 42, which was expected to be completed last year. The fab was to begin operations on a process that would allow the chipmaker to create transistors with a minimum feature size of 14 nanometers.
No employees are working in the facility, known as Fab 42, which was completed late last year and was to bring 1,000 jobs and a $5.2 billion company investment.
Those jobs have been created, but employees are doing the work initially attributed to the new facility elsewhere on Intel's Ocotillo Campus, Intel spokesman Chuck Mulloy said.
"The building was constructed on schedule and will be used for future technologies at a future date," Mulloy said of the new building.
The company will still be deploying 14-nanometer technology in Arizona, but will do it in existing fab space at the site rather than at the new facility to improve capital equipment efficiency and to leave the new space available for future technology, Mulloy said. "By running both 14 and 22 nm processes at the same time we get better utilization of our equipment," he added. Mulloy did not specify what the new technologies were.
There are about 11,900 full-time employees at Intel's two Chandler campuses. In 2011, when plans for the new fabrication facility were announced, there were about 9,700 full-time employees.
"It doesn't matter which building they work in; we've already increased the workforce by more than 1,000 people at that work site," Mulloy said.
Intel received about $3.3 million in state tax credits from the Arizona Commerce Authority for job creation, the organization reported. The company received credit for 348 jobs in 2011 and 743 jobs in 2012. This credit is available for companies that create at least 25 jobs and invest at least $5 million in capital.
The Fab 42 plant was touted as the most advanced high-volume semiconductor-manufacturing facility in the world. The massive structure was among the world's largest construction projects in recent years, built with the world's largest land-based crane, capable of pulling 4,000 tons, according to Intel.
Obama, who visited the construction site in January 2012, used it as the backdrop for a speech stressing the importance of expanding domestic manufacturing.
"I'm here because the factory that's being built behind me is an example of an America that is within our reach," Obama said. "An America that attracts the next generation of good manufacturing jobs. An America where we build stuff and make stuff and sell stuff all over the world."
Chandler city officials said they were not concerned with the delay in opening the facility.
"As Intel Corporation is looking at future investment and where they go, now they have this facility that's there which makes us even more competitive to draw the next technology from Intel into Chandler because they have this asset sitting there and waiting," said Christine Mackay, Chandler's economic-development director.
Operations at a $300 million research-and-development facility also completed in Chandler are expected to begin in the next six months, Intel spokeswoman Rachel Sutherland said.
Intel's move comes amid a slump in the PC market. In 2013, unit PC shipments worldwide declined by 10% from 2012, with shipments declining for seven consecutive quarters, research firm IDC reported last week.
To read the full story go here: https://www.azcentral.com/community/chandler/articles/20140113intel-says-factory-stay-shut-now.html?nclick_check=1