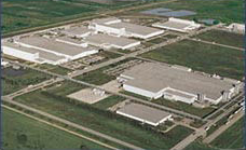 Phoenix – Inteplast Group, Ltd.of Livingston, N.J. (Dr. John Young, president) plans to hire 70 workers for its plastics manufacturing facility opening in Phoenix. The company paid $5.825 million ($55 PSF) to buy the 106,000-square-foot industrial project at 4101 W. Buckeye Road in Phoenix.
The seller was a company formed by ProLogis, Inc. of Denver, Colo. (NYSE:PLD).
Established in 1991 and headquartered in Livinston, NY, Inteplast Group is the largest manufacturer of integrated plastics in North America. The new facility is expected to be operational in Phoenix by early 2015. The acquisition from ProLogis included land targeted for another 50,000-square-feet of industrial space.
The buyer in the cash sale was represented by Bill Rudolph of CBRE in Houston, TX., and Jerry McCormick, John Werstler and Cooper Fratt of CBRE in Phoenix. The seller was represented through Matt Hobaica and Nate Bubeck of Lee & Associates Arizona of Phoenix.
Interplast now operates 40 manufacturing plants and 10 warehouses in North America.  The company's facilities in Texas are the largest of its kind. Using the latest, most innovative technology, including advanced automation and computerization. Its plants have achieved ISO 9001: 2008 Certification, the international stamp of quality manufacturing.
Inteplast Group's three divisions—AmTopp, Integrated Bagging Systems, and World-Pak—offer a diverse product line including BOPP film, stretch film, and XF cross-laminated film; grocery, merchandise, and garment bags; trash can liners and other plastic bags and supplies; fluted plastic sheets; and free foam and celuka PVC sheets.
In June 2012, ProLogis bought the building and an adjacent 16-acre parcel that is planned for another 220,000-square-feet of industrial space. Hobaica and Bubeck are marketing the remainder of the property for a build-to suit.
Find out more by calling Inteplast at (973) 994-8000. Rudolph can be reached at (713) 577-1727 and the other CBRE agents in Phoenix are at (602) 735-5555. Hobaica and Bubeck should be contacted at (602) 956-7777 for more information.