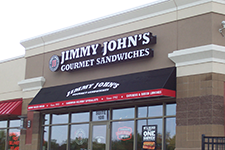 CHAMPAIGN, Ill. – On July 30, 2014, Jimmy John's learned of a possible security incident involving credit and debit card data at some of Jimmy John's stores and franchised locations. Jimmy John's immediately hired third party forensic experts to assist with its investigation. While the investigation is ongoing, it appears that customers' credit and debit card data was compromised after an intruder stole log-in credentials from Jimmy John's point-of-sale vendor and used these stolen credentials to remotely access the point-of-sale systems at some corporate and franchised locations between June 16, 2014 and September 5, 2014.
Approximately 216 stores appear to have been affected by this event. Cards impacted by this event appear to be those swiped at the stores, and did not include those cards entered manually or online. The credit and debit card information at issue may include the card number and in some cases the cardholder's name, verification code, and/or the card's expiration date. Information entered online, such as customer address, e-mail, and password, remains secure. The locations and dates of exposure for each affected Jimmy John's location are listed on AFFECTED STORES & DATES.
Here are the compromised stores in Arizona and the dates the security breach occurred:
Tucson, 5411 E Broadway Blvd., June 16 to Aug. 8
Glendale, 5890 W. Thunderbird Road, June 23 to Aug. 1
Mesa, 1730 W. Southern Ave., June 16 to Aug. 2
Peoria, 25101 N. Lake Pleasant Pkwy., July 1 to Aug. 5
Phoenix, 7000 N. 16th St., June 27 to Aug. 13
Scottsdale, 10701 N. Scottsdale Road, June 16 to Aug. 13
Tempe, 681 E. Apache Blvd., June 16 to Aug. 3
Tempe, 521 S. College Ave., June 16 to Aug. 1
Tempe, 5128 S. Rural Road, June 26 to Aug. 2
Flagstaff, 1020 S. Milton Road, Jan. 1 to Aug. 1
Jimmy John's has taken steps to prevent this type of event from occurring in the future, including installing encrypted swipe machines, implementing system enhancements, and reviewing its policies and procedures for its third party vendors. The security compromise has been contained, and customers can use their credit and debit cards securely at Jimmy John's stores.
In a written statement, the company apologized for any inconvenience this incident may have on our customers, "Jimmy John's values the privacy and security of its customers' information, and is offering identity protection services to impacted customers, although Jimmy John's does not collect its customers' Social Security numbers."  To take advantage of these services, please visit CONTACTS & INFORMATION. For more information, call (855) 398-6442. In addition, customers are encouraged to monitor their credit and debit card accounts, and notify their bank if they notice any suspicious activity. Additional recommendations for protecting your information can be found at RECOMMENDATIONS.
Due to ongoing forensics and law enforcement investigations, we are limited in the amount of information we can provide at this time. However, Jimmy John's will continue to post relevant consumer updates on the Company's website, located at www.jimmyjohns.com.