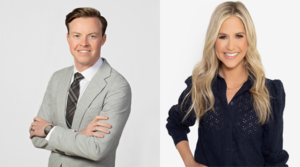 Both will continue to focus on institutional industrial sales throughout Phoenix MSA
PHOENIX, December 12, 2022 – JLL Capital Markets is pleased to announce that Greer Oliver and Connor Nebeker-Hay have joined the firm as Senior Director and Associate, respectively, in its Phoenix office. Oliver will lead JLL's institutional industrial investment sale efforts throughout the Phoenix MSA, with leadership support from Ben Geelan and Mark Detmer.
"We are thrilled to join JLL and leverage its unparalleled capital markets platform. Collaboration among JLL's investment sales, debt & equity and leasing verticals will allow us to provide best-in-class services to our clients," said Oliver.
Oliver and Nebeker-Hay bring sophisticated market knowledge and experience to the JLL team. Over the past five years, Oliver advised on more than 130 industrial sales transactions, totaling more than 63 million square feet and approximately $6.9 billion in value.
"The addition of Greer, as a leader in the Phoenix industrial investment sales sector, demonstrates our commitment to providing our clients with a market-leading suite of industrial services. We are excited to welcome Greer and Connor to the team," said Ben Geelan, Senior Managing Director, Phoenix Office Co-Head.
Kevin MacKenzie, Executive Managing Director, National Production Leader said, "This is a major addition for our team, allowing us to further represent our client's best interests. The number one way we have grown market share at JLL historically is via rising stars like Greer, who can now accelerate her career by working across our teams to drive new opportunities and deliver for our clients."
JLL Capital Markets is a full-service global provider of capital solutions for real estate investors and occupiers. The firm's in-depth local market and global investor knowledge delivers the best-in-class solutions for clients — whether investment sales and advisory, debt advisory, equity advisory or a recapitalization. The firm has more than 3,000 Capital Markets specialists worldwide with offices in nearly 50 countries.