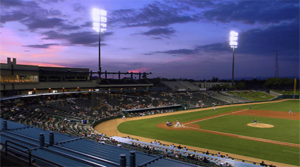 Kino Sports Complex fully paid off at the end of this year
PIMA COUNTY – The Pima County Board of Supervisors Nov. 7 voted 4-0 to approve a resolution to end the 50-cent recreational vehicle space surcharge implemented in 1997. The county imposed the surcharge to repay the construction debt for the Kino Sports Complex facilities. Because the complex, 2500 E. Ajo Way, will be fully paid off at the end of this calendar year, the county is required by state law to stop collecting the surcharge effective Jan. 1. The surcharge generated roughly $161,000 last fiscal year.
A $3.50 fee on car rental contracts that also was used to pay for the stadium will remain in effect. The county intends to use revenue from the rental car fee to pay for the sports complex's expansion on the south side of Interstate 10. Construction of the first phase will begin in spring 2018. Improvements will include a regional soccer tournament complex with 12 lighted natural grass long-sport fields, which can be used for soccer, rugby, lacrosse, field hockey and football; concessions; restrooms; locker rooms; a maintenance compound; parking; and an entrance from Benson Highway. Future development may include private retail space, hotels, restaurants, an indoor sports facility and a tournament stadium with clubhouse and other amenities. An Interstate 10 pedestrian underpass connecting the existing complex to the expansion also is planned.
Although the District will no longer collect the annual RV surcharge revenue, Kino Sports Complex officials do not expect it will have an effect on business operations.
Kino Sports Complex brings in more revenue and visitors than it did when it was used primarily for Major League Baseball Spring Training. The facility is booked for most of the year and reserved for events two and three years in advance. In fiscal year 2017, Kino was reserved for 353 days of the year, bringing in more than 400,000 visitors, both in and out of state. Visitors and revenue will increase further once the master plan for the Kino expansion South of I-10 is complete.