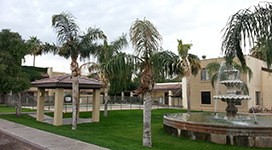 PHOENIX, AZ - ABI Multifamily, a dedicated multifamily brokerage and advisory services firm, is pleased to announce the sale of Fountainhead, an apartment community located in Phoenix, Arizona. The 273-unit garden-style, gated community, Fountainhead Apartments located at 4326 North 35th Avenue in Phoenix, Arizona was built in 1984 – and sold for $8.145 million ($29,835 per unit).
"This neighborhood provides a prime example of the resurgence happening throughout the Phoenix Metro. A few years back, when changes were being made to state immigration laws, this area and others like it, saw a significant reduction in renters. This property, in particular, experienced occupancies in the 60% range for a period of time. Due to a combination of reasons, including neighborhood revitalization efforts, improvements in the economy and resident profiles, and significant growth of nearby Grand Canyon University, Fountainhead has seen occupancies rise to 97% during the escrow process for this sale. That is a serious turnaround! Kudos to the sellers, who were able to navigate turbulent waters throughout their nearly 25-year ownership of the property and ultimately improve quality and value of a solid West Phoenix asset," stated John Kobierowski, Senior Managing Partner at ABI.
"This sale represented a relatively low price per unit of $29,835/unit. The buyers are stepping into ownership of Fountainhead Apartments at a very good time. Higher occupancies and improvements in the surrounding area make this a sound value-add opportunity with strong momentum and real growth potential. Another great part of this sale is that the buyer was able to attain a low fixed rate loan," stated Alon Shnitzer, Senior Managing Partner at ABI.
Fountainhead is a two story garden-style apartment community. The gated property sits in West Phoenix on the Grand Avenue Corridor. Direct access to Downtown Phoenix employment, entertainment and dining options make this an ideal location for residents. The community is also less than a mile from I-17 and located in close proximity to the ever-expanding Grand Canyon University. Fountainhead has a mix of Studios, One Bed / One Bath, and Two Bed / Two Bath Unit types. All apartments include individual HVAC systems. Common area amenities include three community swimming pools, clubhouse, two on-site laundry facilities and ample covered/open parking.
The buyer, Fountainhead Phoenix, LLC, is based in Los Angeles, CA, and is an experienced multifamily owner in the Phoenix metropolitan area.
The seller, Clancy & Associates, is based in Phoenix, CA, and is an experienced multifamily owner in the Phoenix metropolitan area.
The Phoenix based ABI Multifamily brokerage team of Alon Shnitzer, John Kobierowski, Rue Bax, Doug Lazovick and Eddie Chang represented both the seller and buyer in this transaction.
To learn more the ABI Multifamily brokerage team should be reached at 602.714.1400