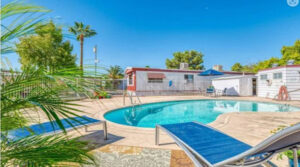 TUCSON, ARIZONA, March 16, 2023 -- The Lamplighter Mobile Home Park, at 3431 N Flowing Wells Road in Tucson, with 67 spaces, sold for $4.75 million, or $70,895 per space.  Built in 1962, the all-ages community amenities include a pool and is pet friendly.
This was the first mobile home park sale in Tucson this year and the highest sales price and closed on 2/15/2023.
The last time the property sold was in October 2016 for $2.4 million.
The buyer is HPC-Lamplighter MHC, LLC of Alpine, CA, c/o Craig Engstrand.
The seller, Lamplighter MHC, LLC of El Cajon, CA, c/o Wayne Comfort.