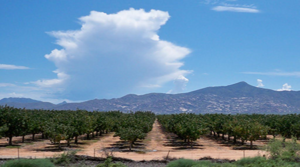 By: Terri Jo Neff
A court-appointed receiver has been granted temporary control of a large pecan operation in eastern Cochise County after the owners defaulted on two loans worth $20 million.
Robert Marcus, an Illinois-based attorney, has been put in charge of all operations of Victor Produce, Inc. and its subsidiary company Victor Produce of New Mexico which grows pecans on nearly 1,500 acres in Cochise County near the New Mexico border.  He filed a court-ordered Oath last week, promising to discharge the duties of receiver in obeyance with orders put forth by Judge John Kelliher.
Marcus specializes in agribusiness law, including the Perishable Agricultural Commodities Act. His appointment was requested by Brighthouse Life Insurance Company, which loaned $11 million and $9 million in May 2018 to the Victor Produce companies, as well as a trust controlled by Jimmy L. and Christina J. Victor, and the Victors personally.
The loan notes mature in January 2029, with Brighthouse holding collateral in the form of a Deed of Trust which grants the lender a first priority lien on property owned by the Victor Produce companies and the trust. The lien affects several parcels of pecan fields located near San Simon east of Willcox, as well as buildings, storage facilities, wells, water rights, rents, and crop income.
Court records show the July 2019 debt payment was missed, after which Brighthouse declared the loans due in full, which totaled more than $21 million with outstanding interest. The lender then applied for appointment of a receiver in October to protect the collateral and to preserve any revenue streams.
Kelliher, a judge with the Cochise County Superior Court, approved the receivership over the objection of the borrowers. His order authorizes Marcus to "take possession of the Property to manage, conserve, operate, and protect it, pending a trustee's sale" and gives the receiver "complete and exclusive control, possession and custody" of all property, bank and credit accounts, cash, and accounts receivable.
The order also requires the borrowers to provide Marcus with all ledgers, documents, contracts, security codes, passwords, and other information "necessary to operate the property."
Marcus is to be compensated at $450 per hour plus costs, including a $10,000 surety bond required by the court. He must file periodic reports with the judge as to his actions. In the meantime, attorneys for Brighthouse and the borrowers are free to pursue a consensual settlement to resolve the delinquent debt.