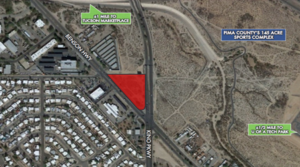 Tucson, AZ. – December 14, 2022 –Larsen Baker recently sold the remaining 2.05 acres of land at the northwest corner at Kino Parkway and Benson Highway to Split Rock Holdings, LLC.
The land sold for $1,100,000 ($12.31 PSF). The new owner intends to use the land as a used car lot.
Isaac Figueroa represented the seller, Kino Investment Associates, LLC, an affiliate of Larsen Baker. The buyer was self-represented.
For additional information, Figueroa can be reached at 520-296-0200 ext 218.
To learn more see RED Comp #10358.