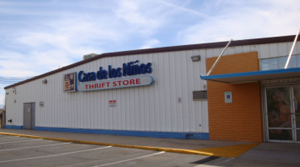 TUCSON, ARIZONA (January 19, 2023) -- Longitude Holdings, LLC of Tucson c/o Ricardo and Kristen Boyum, purchased the 19,268 square-foot property at 1302 East Prince Road, from Casa de los Niños, Inc. of Tucson for $1.85 million ($96 PSF).
The seller was an owner user using property for the Casa De Los Ninos Thrift Store and buyer will be the same having purchased property for a second location in Tucson dba Latitudes Furniture store.
Latitudes Furniture is a new family-owned furniture store featuring a unique collection of eclectic and one-of-a-kind pieces from around the globe. With many years of experience in the furniture industry, they have curated a portfolio of quality sources that is guaranteed to bring a refreshing furniture shopping experience to Southern Arizona.
Latitudes Furniture first location is at 4721 E Broadway Blvd in Tucson.
There you will find everything you need, including a large selection of sofas, sectionals, entertainment centers, dining room tables, bedroom sets, and that one conversation piece that brings an entire room together. In every corner of the showroom, ways to marry furniture and accessories to create a unique look that will be "home" for years to come is on display.
The company specializes in a wide array of styles from urban industrial and rustic to shabby chic and vintage. Many items in their collection feature heavily distressed finishes and reclaimed wood. Take a look at our online gallery at Latitudes Furniture | Unique Furniture Store in Tucson AZ (latitudes-furniture.com) before you visit to see the style, and then come to our showroom location to enjoy a hassle-free shopping experience.
Joey Castillo of Volk Company represented the Buyer and Cameron Casey and Lori Casey of Oxford Realty Advisors represented the Seller in this transaction.
For more information, Castillo can be reached at 520.326.3200 and the Caseys can be reached at 520.232.0200.
To learn more see RED Comp #10393.
​