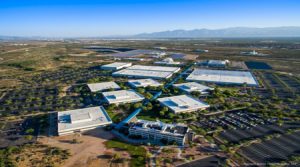 Strike Photonics Inc. joins UA Tech Park alongside 100+ companies in a dynamic campus where emerging businesses and tech giants work side by side.
Tucson, AZ – Strike Photonics, Inc. has selected Tucson for its newest expansion location, bringing new investment into Southern Arizona. As a pioneer in semiconductor technology, Strike Photonics uses world-changing semiconductor technology innovation to develop product solutions driving advancement in several key sectors including biotechnology, electronic defense, telecommunications, and optical computing.
Strike Photonics, founded in Texas, expanded strategically to Arizona to establish a design and product development hub near potential clients and the talented graduates of the University of Arizona Wyant College of Optical Sciences.
The new Arizona office represents Strike Photonics' commitment to innovation and collaboration. Leveraging their expertise in semiconductor manufacturing and design, the company aims to foster progress through seamless integration of technology and precision engineering.
"Strike is excited to expand its location and create a Tucson base of operations by partnering with the UA Tech Park. This expansion signifies our commitment to pushing semiconductor capabilities to the leading edge, empowering us to create solutions that truly matter and drive positive change. As a nexus of innovation, the UA Tech Park served as the perfect location where we can converge with like-minded innovators and form new business connections. The park's infrastructure provides the robust foundation necessary for ongoing expansion with the flexibility to take more space as we grow." Todd Doshier, CEO, Strike Photonics

"By harnessing the synergy between the company's expertise and the demands of industry, Strike Photonics is poised to enable rapid technological growth in these crucial sectors," expressed Carol Stewart, Vice President for Tech Parks Arizona, University of Arizona. "We are excited they chose to establish their presence in Arizona and are looking forward to supporting their success."
Tech Parks Arizona creates the "Interactive Ground" that generates, attracts and retains technology companies and talent in alignment with the research, mission and goals of the University of Arizona. Tech Parks Arizona directs the UA Tech Park, the UA Tech Park at The Bridges and the University of Arizona Center for Innovation incubator, placing the highest priority on recruiting companies desiring connectivity to the University of Arizona.