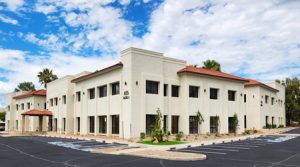 TUCSON, AZ (October 13, 2023) – A growing technology and cybersecurity company, LeeShanok Network Solutions, is doubling its space and moving to 665 E River Road in Tucson.
The 12,000-square-foot building at 665 E River sold for $184.50 per square foot on September 25, 2023. It was a parcel split of Lot 8 in Foothills Heights or a 39,219 square-foot lot.
LeeShanok Network Solutions is committed to providing Arizona businesses the best Managed IT and Cybersecurity. Professional customer service is the company's top priority, using innovative network technology to improve communications and optimize business operations. The LeeShanok team takes a preemptive approach to security solutions by monitoring traffic and identifying potential threats before cyberattacks occur. The company believes in using best-in-class technology to deliver "A Higher Level of Information Technology."
LeeShanok will occupy the first floor of the two-story building or approximately 6,000 square feet at the River Road location and is planning to lease the second floor, also 6,000 square feet, which can be subdivided to spaces of 1,500 square feet
Juan Teran, CCIM, with Realty Executives International, should be contacted regarding the second-floor lease. Teran represented the buyer in the purchase transaction of the building and represented them in the sale or leasing of the 3,105-square-foot building they outgrew at  820 E Fort Lowell in Tucson.
The seller was River People, LLC. Stewart Title handled the escrow, and Bank of the West, now BMO Harris, provided financial assistance. The seller, River People LLC, whom the VOLK Company represented, can be contacted for additional sale or lease information for the remaining buildings. Dave Volk with VOLK Company represented the seller and can be contacted for sale or lease information on the remaining buildings at the northwest corner of River and First Avenue.
For more information, LeeShanok can be reached at 520.888.9122. Juan Teran can be contacted at 520.977.5905.  The Volk Company can be contacted at 520.326.3200.
To learn more, see RED Comp #10919.