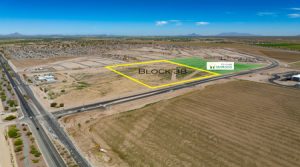 MARANA, AZ — October 3, 2023 — Lennar Arizona, one of the leading homebuilders in the region, has successfully closed a landmark deal in the heart of the master-planned community, Gladden Farms. The purchase, valued at $11,484,800, included 148 finished lots and marked a significant milestone for Lennar Arizona and the Gladden Farms community.
The seller was Gladden Phase II, LLC, a Crown West Land Group subsidiary, Dean Wingert, Vice President.
This closing holds a unique distinction as Lennar Arizona purchased the first and last lots within the Gladden Farms community, spanning twenty years.
Wingert commented, "These residential lots will comprise Lennar's 10th and final neighborhood at Gladden Farms, starting with their initial purchase of lots way back in 2003. What a great demonstration of their long-term commitment to the community and their special partnership with us. We've certainly valued the relationship."
Gladden Farms, a meticulously planned community, is renowned for its exceptional amenities, characteristics, and attributes that cater to residents' modern lifestyles.
Among its outstanding features are:
Community Amenities: Gladden Farms offers residents over 30 parks, miles of paved interconnected walking/cycling trails, dog parks, ball fields, and a splash pad. These recreational facilities provide a welcoming environment for families and individuals alike.
Education: The community is home to Marana Unified School District's Gladden Farms Elementary School, making it an ideal choice for families with children seeking quality education. A second District school will be under construction next year.
Location: Strategically situated in Marana, Arizona, Gladden Farms provides convenient access to Tucson's vibrant urban amenities while maintaining its serene, suburban ambiance.
Will White and John Carroll of Land Advisors Organization in Tucson handled the transaction.
White commented on the significance of this transaction, saying, "Gladden Farms has been a leader in community development over decades and boasts the largest homebuilder roster in the region. The Tucson marketplace is stronger and better because of its contributions and presence."

Lennar purchased 148 finished lots in Block 38 adjacent to a future Marana School District site.
White and Carroll can be reached at 520.514.7454 for more information.
To learn more, see RED Comp #10915.