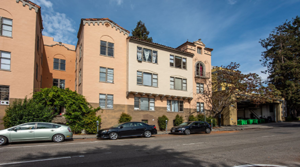 Company furthers dominance in the Bay Area market, completing deals that had been previously marketed unsuccessfully by other competitors
Bay Area, Calif. – Levin Johnston of Marcus and Millichap, one of the top multifamily brokerage teams in the U.S. specializing in wealth management through commercial real estate investments, announced that it has successfully completed 78 transactions totaling approximately $500 million in 2021, signifying a record year for Levin Johnston. Levin Johnston currently has over 30 commercial transactions pending in excess of $300 million set to close in the first quarter of 2022.
The properties range in size and are primarily located in the Bay Area, demonstrating the team's ability to strategically procure buyers and identify a variety of assets to meet investor demand in this market, according to Adam Levin, Executive Managing Director, and Robert Johnston, Senior Managing Director of Levin Johnston.
"Multifamily transaction activity in suburban markets throughout the Bay Area has been strong throughout 2021, as the continued implementation of vaccines and return to office have helped ease the economic uncertainty of the pandemic," says Levin. "Despite this year's challenges, our team has been able to utilize its deep industry knowledge, strong connections, and the economic fundamentals of the Bay Area market to achieve our most successful year to date." The Bay Area added 178,600 jobs between January and October 2021, far outpacing U.S. gains for this period. The region is also a state and national leader in vaccinations and reducing COVID cases, which has helped economic recovery and led to a strong return to office.

"The Bay Area benefits from a strong and dynamic workforce, driven by major employers such as Twitter, Salesforce, Adobe, and Uber, among many others," added Johnston. "The continued flexibility of home and office work schedules has led to an increase in multifamily demand as people are making the decision to relocate or move to different multifamily communities that better support their remote work activities. We specialize in identifying properties that are near major employers, colleges, and universities, all of which are equipped to accommodate working from home and learning and will benefit from long-term renter demand."
Johnston adds that many of the properties included in the team's transactions for the year were previously marketed unsuccessfully by other brokers, including the following:
Casa Bonita Apartments
Levin Johnston directed the $10.2 million sale of Casa Bonita Apartments, a 24-unit multifamily community in Berkeley, California, which had previously been marketed unsuccessfully by a competitor. "Through our understanding of the value of the East Bay Area, we were able to secure a strong buyer and get the Casa Bonita Apartments deal closed contingency free," notes Johnston.
Casa Bonita Apartments offers the buyer a Spanish Villa apartment building located in the heart of Berkeley. This property is conveniently located close to local coffee shops and restaurants and has a mix of studio, one-bedroom, and two-bedroom units. The multifamily community offers unique vintage and classic touches such as hand-crafted Spanish tiles, iron hacienda wrought railings, and iron candle chandeliers.
Casa Bonita Apartments is located at 2605 Haste Street, Berkeley, CA 94704.
680 South 8th Street
Levin Johnston completed the sale of a 27-unit multifamily community on behalf of a private investor located San Jose, California. The multifamily property was sold for a total of $8.35 million, after having been previously marketed unsuccessfully by another broker.
"680 South 8th Street has recently undergone significant exterior and interior renovations, with 16 of the 27 total units being extensively renovated," explains Levin. "Our team was able to convey to investors the opportunity to achieve significant rental premiums through interior renovations and additions on the remaining 11 units, and we emphasized this property's world-class location in the heart of Silicon Valley. These strong fundamentals ultimately led to a completed sale."
The property is located at 680 South 8th Street, San Jose, California 95112.
For more information about Levin Johnston's $100 million in available properties, visit www.levinjohnston.com.