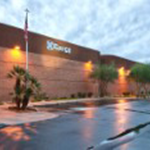 PHOENIX, AZ – LGE Design Build has completed construction of a national distribution center for Galco International, a firearm holster manufacturer based in Phoenix, that will help the company meet demand for its projected growth through 2020.
The new distribution center, located at 2025 W. Quail Ave. in Phoenix, is on the same campus as the company's existing corporate office and manufacturing facility. LGE Design Build has constructed two other facilities for Galco International.
"LGE Design Build is proud of its long-term relationships with clients and that many clients return to us, such as Galco International, when they need additional properties constructed," said David Sellers, president of LGE Design Build.
Law enforcement agencies throughout the world use Galco products ranging from concealment holsters to rifle slings approved by the National Tactical Officer's Association.
"With the completion of our new national distribution center, we are two-thirds through our five-year expansion plan," said Scott Feck, vice president of operations for Galco International. "Remaining in our plan is the repurposing and remodeling of our corporate office and factory, also constructed by LGE. Working with LGE on this project was a positive experience - on budget and on time with a great superintendent."
Cawley Architects used contemporary materials to design the new structure.
"The distribution center was designed to be compatible with the existing structures and add to the campus feel," said Sherman Cawley, principal of Cawley Architects.