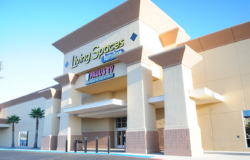 Living Spaces, a home furnishing store chose Scottsdale for its first store outside of its home state to open a 130,000 sq. ft. store at 16275 N Scottsdale Road in the Promenade Shopping Center today.
This is store number ten for the company and the very first outside the state of California. Living Spaces is also under construction of a 125,000 sq. ft. store and 300,000 sq. ft. fulfillment center at the southeast corner of Interstate 10 and 67th Avenue in Phoenix, expected to open sometime Q1 2014.
Living Spaces started in August 2003 with a commitment to making the shopping experience for home furnishings as easy and convenient as possible. With over 150 Living Rooms, 115 Dining Rooms, and 100 Bedrooms in the stores, it offers a huge selection of the best brands to meet any design style or budget with guaranteed low prices. Best of all, customers don't have to wait for their new furniture with same day delivery.
Living Spaces will be creating 150 new jobs in the region, including those at the new fulfillment center. With 10 new stores planned before year end, we inquired about plans for Tucson, and were told Tucson wouldn't be in the board until the Phoenix stores have all stabilized.
In spite of the recent economic downturn, or perhaps because of it, home decorating and DIY projects have continued to grow in popularity. Never before have so many people been willing to work on their own homes and use their creativity to make their living spaces comfortable. Some estimates have measured this segment of the market to be approximately $65.2 billion per year.
Scott Kaplan of CBRE in Newport Beach, CA represents Living Spaces nationally. Todd Folger of CBRE in Phoenix represents the company in Arizona.  Other brokers assisting with the lease transaction in Scottsdale were Mark Kol of CBRE in Oakland, CA, and John Rehling and Kevin Schuck of CBRE in Phoenix.
Brokers handling the Phoenix fulfillment center lease were Todd Folger, Scott Kaplan, Mark Kol and Greg White, also with CBRE in Phoenix.
For more information, contact Kaplan at (888) 200- 7754 or Folger at (602) 735-5555