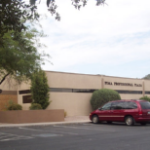 This article has been archived, please login for access or subscribe now by going to the subscribe tab at the top of page.
Pima Professional Plaza at 5700 E Pima Street, at Craycroft and Pima in Tucson, sold in a receivership sale for[mepr-show rules="58038"]$1.9 million ($95 PSF) with some seller concessions. The investor is a local investment group put together by Eddy Chernecki of Tucson. Eileen Lewis of Cushman & Wakefield / Picor was  receiver for the seller, Hamilton-East Pima, LLC of California and the lender in the transaction.
The 20,041 sq. ft. medical complex (built 1978) on 2.23 acres was 50% occupied by four high quality medical groups with upside potential in new leasing when it sold. The center offers convenient medical space near Tucson Medical Center and other Eastside hospitals as well as financial district.
The highly visible property features easy access from Pima Street and ample parking for clients and patients. Many of the suites had recently undergone extensive interior renovations.
Healthcare practitioners readily anticipate the significant increase in demand for medical services expected over the next decade. Shifting demographics and new heath care legislation are expected to expand the patient base. As a result, job creation in the healthcare field is expected to mirror the increased demand in the industry. In response to this growth, the Urban Land Institute estimates the demand for medical office buildings (MOBs) will increase 19% by 2019. The recent spike in demand for quality medical space in the region is indicative of that trend.
We continue to see a flight to quality within the medical office market as practices seek to upgrade facilities and increase efficiency. The healthcare industry is working to meet the demand of a rapidly changing environment and companies are getting creative and more resourceful.
Andrew Sternberg, Specialist in Professional and Medical Office Services with Oxford Realty Advisors in Tucson represented the seller in the transaction. Rob Fischrup and Jon O'Shea, Principals, Specialized in Investment Sales and Acquisitions at Vast Real Estate Solutions in Tucson represented the investor.
For additional information, Fischrup and O'Shea should be contacted at (520) 624-9400. Sternberg can be reached at (520) 232-0200.[/mepr-show]
Login for more information on this sale.
[ismember]Sale date was 8/1/2013. Net sale price was $1,550,000 after $350,000 was held back in escrow to be paid by seller for deferred maintenance. Buyer paid $475,000 down and obtained new financing for the balance. Escrow time was reported to be 60 days. Property sold with an approximate NOI of $100,000, a 6.45% cap rate based on income at time of sale and property 50% vacant. Asking base lease rate was reported at $16/SF/ modified gross [/ismember]