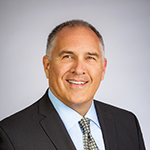 Newport Beach, Calif.
—Landsea Homes has announced that longtime executive Greg Balen has been named Regional President, Arizona Division for the company.
"As one of our original Landsea Homes team members, Greg has continuously shown initiative and strategic thought during his long and distinguished career, and keenly understands the importance we place on attention to detail, construction and high-quality customer service," said Mike Forsum, chief operating officer, Landsea Homes.
He added, "Greg's homebuilding expertise and leadership ensures that Garrett Walker Homes and Landsea Homes will continue to deliver exceptional best-in-class communities in some of Arizona's most highly desirable and livable locations."
"With our strategic expansion plans underway in Arizona, I'm excited about this new opportunity to support our in-market growth while ensuring that we remain true to our commitment to building quality homes and providing unmatched customer service," said Balen.  "We are very bullish on Arizona and have assembled a great team to provide homebuyers with great opportunities to 'Live In Their Element'."
Landsea Homes entered the Arizona market just two years ago with a land purchase for their first community.  Since that time, they have steadily acquired additional lots to boast 19 communities and more than 1,400 lots in Arizona.  The recent acquisition of Garrett Walker Homes, which continues to operate under that well-known brand, added 18 communities (nine actively selling) and more than 1,700 total lots to the portfolio, making Landsea Homes one of the top homebuilders in Arizona.  Last month, Phoenix-based RL Brown research named Landsea Homes as one of the homebuilders building the most affordable homes in Arizona.
"This new position allows Greg to ply his expertise and experience and ensure that we continue to deliver homes that are innovative, best-in-class and a great value for our homebuyers," noted Forsum.