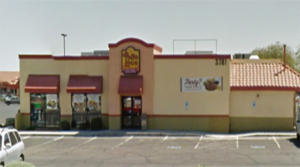 TUCSON, Arizona - El Pollo Loco at 3781 W Ina Road sold for $2.56 million ($771 PSF) in an investment sale. The former Burger King restaurant site was sold and converted by WKS Restaurant Group (Roland Spongberg, CEO) in 2015 to El Pollo Loco.
Headquartered in Lakewood, California, WKS Restaurant Group is a licensed franchisee of four restaurant brands, El Pollo Loco, Denny's, Krispy Kreme Doughnuts, and Corner Bakery Café.
The 3,320-square-foot building was built in 1986 on a 38,000-square-foot prime corner pad in the North Pima Center, west of Ina and Thornydale, in Marana, Arizona. El Polla Loco will continue to occupy the property as part of the sale leaseback agreement.
At El Pollo Loco, pronounced "L Po-yo Lo-co" and Spanish for "The Crazy Chicken," they say they go to crazy lengths for the signature citrus-marinated, fire-grilled chicken. The whole chicken is fire-grilled, hand-cut, and served with our chicken meals, bowls, burritos, salads, soups, tacos and quesadillas. We apply the same passion to our handmade guacamole, salsas and dressings every day. To sum it up, They say "It's Crazy You Can Taste".
Vahn Saroians with Coldwell Banker in Los Angeles represented the buyer, a private investor from San Diego, California.
For more information, Spongberg can be reached at 562.425.1402 and Saroians is at 323.665.5841.
To learn more, see RED Comp #4360.