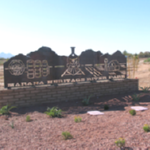 The Marana Town Council following a plan laid out in early 2013 is moving forward with a $5 million plan to develop the 163-acre Marana River Heritage Park with a rodeo arena, splash park and more.
In May 2012, the Town took a large step toward ensuring that its history lives long into the 21st Century by purchasing 28 acres of state land on the site of the Heritage River Park. The Town leased the land located south of Gladden Farms for several years with the intention of eventually purchasing it.
The Heritage River Park is envisioned as a place where Marana's heritage is displayed through a demonstration farm, water features, marketplace and equine facilities. The property's proximity to the multiuse path and Santa Cruz River also represents a tremendous opportunity. Marana has an amazing story to tell as a community and the park gives it a chance to do so in a unique way.
In keeping with the Town's Western heritage, plans include building an equestrian element at the park. The Western Heritage Arena has proven that people will travel many miles to attend horse shows and events. Those same visitors could also support the retail element Marana plans to incorporate in the park's master plan.
Plans are for a lighted arena with covered grandstands, stock pens, stables, parking, concession stands and restrooms on the 28 acres located at the southwest corner of Tangerine and Postvale roads, near Gladden Farms and about 3-miles away from the current arena off I-10 that it will replace.
Most of the cost, $4.3 million, would be for the arena. The town has spent $285,000 on planning, design and drainage plans. The $5 million will be part of the capital budget for the fiscal year that begins July 1.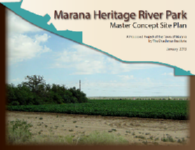 Schlesinger Consulting Engineers of Tucson have done the preliminary development work and drainage plan for the project. An RFQ is expected to be issued within the next few months to select a contractor and construction could begin as early as this summer for a 2015 opening.
Mayor Ed Honea said in a radio interview that the arena could operate as a "loss leader" to boost tourism and retail. Marana Town Council expects the arena to foster new businesses in the area.
"If people come and stay in our hotels, eat in our restaurants, shop in our stores, we generate a certain amount of money indirectly from that," he said.
Town leaders are still evaluating options for paying for the park improvements, including spending general-fund reserves, borrowing with bonds, setting up a lease-back agreement or leveraging a public-private partnership.
To view complete Master Concept Site Plan Click Here