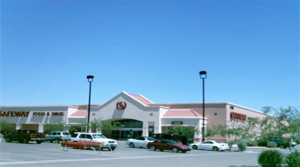 TUCSON, Arizona — HKM California Properties, LLC (Rob Whittey) purchased the Safeway Store #1749 at 9100 N Silverbell Road in Marana from Fortress Investment Group LLC (NYSE: FIG) for $8.26 million ($150 PSF) in an investment transaction. Safeway will continue to occupy the property.
The Marana Safeway sold previously as part of an agreement that included 71 stores to Fortress for an aggregate purchase price, exclusive of closing costs, of approximately $720 million, in a sale leaseback agreement. According to public records the store was valued at $6,696,428 as part of the bulk / portfolio sale in December 2017.
Fortress Investment Group, a global investment group based in New York was recently acquired by SoftBank Group Corp. ("SoftBank" or "SBG") for $3.3 billion in cash.
Fortress will operate within SoftBank as an independent business headquartered in New York. Fortress Principals Pete Briger, Wes Edens and Randy Nardone will continue to lead Fortress. SoftBank is committed to maintaining the leadership, business model, brand, personnel, processes and culture that have supported Fortress's success to date.
To learn more, see RED Comp #5602.