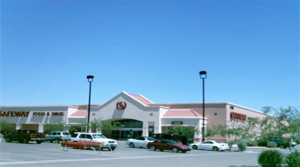 MARANA, Arizona – Safeway Store #1749 at 9100 N Silverbell Road in Marana sold as part of an agreement that included 71 stores to a Delaware limited liability company for an aggregate purchase price, exclusive of closing costs, of approximately $720 million, in a sale leaseback agreement. According to public records the store was valued at $6,696,428 as part of the bulk / portfolio sale.
Safeway and Albertsons Companies that merged in 2014 expects to enter into lease agreements with the purchaser, operating under the name "CF Albert PropCo LLC" for an initial term of 20 years with eight options for five-year renewals of the terms of the leases.
In the SEC filing, a wide array of Albertsons-owned banners were named as sellers of the 71 locations involved in the agreement, including Vons, Safeway, Acme Markets, Jewel Food Stores, Randall's Food & Drugs, and Dominick's Finer Foods.
Names of representatives for CF Albert PropCo LLC  were all redacted in the sale agreement. CF Albert does not have a web presence, but the filing does refer to the business as a "Delaware limited liability company."
The deal, was expected to close before December 2, and would allow for Albertsons have more liquid assets and free up cash.
To read more on the specifics of Albertsons' deal, click here to read the company's SEC filing.
To learn more, see RED Comp #5327.